Hayate the Combat Butler: Volume 10
By Leroy Douresseaux
Feb 6, 2009 - 9:18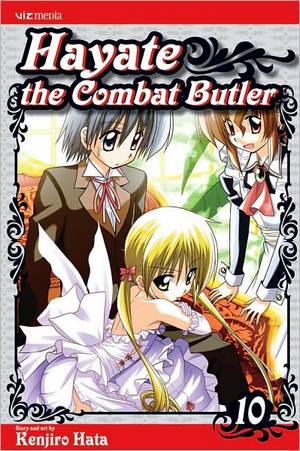 Hayate the Combat Butler 10 cover image is courtesy of barnesandnoble.com.
Rated "T+" for "Older Teen"
From the age of nine, Hayate Ayasaki worked various part-time jobs to pay his parents' gambling debts. These degenerate parents eventually incurred a horrible debt to the yakuza, and they'd also spent all the money Hayate had earned trying to support them. Hayate's parents disappeared after selling their son's organs to pay off their debt. Hayate himself ends up in debt to a teenage heiress named, Nagi Sanzenin, the girl he first tried to kidnap. Nagi, called "Ojô-sama," is also frequently the target of kidnapping plots and various schemes by people trying to get her money. Hayate becomes Ojô-sama's butler, and he zealously protects her, while she falls in love with him.
In Hayate the Combat Butler, Vol. 10, Hayate feels the weight of final exams, so he can't afford to ignore his studies. He reluctantly agrees with Nagi to take a leave of absence to hit the books, but who will take care of Nagi and the mansion while he studies? In steps Mecha Butler No. 13, a robotic version of Hayate. This fully automated domestic manservant turns out to be quite efficient, and then, this machine-engineered butler starts to get ideas… dangerous ideas!
THE LOWDOWN: Its belligerent title belies the fact that Hayate the Combat Butler is a comedy. While it parodies Japanese culture and entertainment, Hayate the Combat Butler is, at its heart, a romantic teen comedy, but this series isn't only about the love of one boy and one girl. Hayate the Combat Butler focuses on many close, personal relationships, and for all its silliness, this manga is about bonds.
POSSIBLE AUDIENCE: While Hayate the Combat Butler is a shonen or boys' comic, it will also appeal to female readers, as well.
B
Last Updated: Jun 26, 2018 - 9:28