Hayate the Combat Butler: Volume 4
By Leroy Douresseaux
August 8, 2007 - 14:49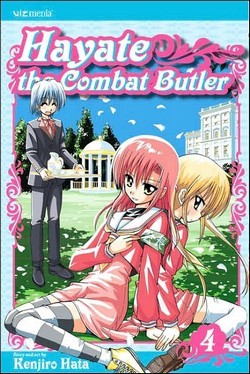 Thanks to barnesandnoble.com for the image.
Hayate Ayasaki
had been supporting his parents since he was eight years-old. Over time, they not only gambled away all his earnings, but also incurred a horrible debt to the yakuza. After trying to sell Hayate's organs to pay off the debt, the parents disappear. Hayate also ends up in debt to a teenage heiress named,
Nagi Sanzenin
, inheritor of the
Sanzenin family fortune
. Nagi, called "
Ojô-sama
," is also frequently the target of kidnapping plots and various schemes by people trying to get her money. Hayate becomes Ojô-sama's butler, and he zealously protects her, while she falls in love with him.
In Hayate the Combat Butler, Vol. 4, it's back to school for Ojô-sama, but she also wants Hayate, who was forced to leave his original school, to once again take up his education. Ojô-sama's plans to enroll Hayate at her ritzy school, Hakuou Gakuin, run into two obstacles, the sisters Yukiji Katsura, who is a world history teacher at the school, and the younger Hinagiku Katsura, who is the Chairman of the Student Council. Things look bad for Hayate when he has to take a difficult entrance exam, but Ojô-sama's maid, Maria, may have something to say about that.
THE LOWDOWN: Hayate the Combat Butler is a broad comedy that mixes action, gag humor, and romance. Manga-ka (creator) Kenjiro Hata balances the jokes with poignancy. He seems intent that readers understand how much the characters care about one another. He emphasizes relationships, but keeps things light with physical comedy and often breaks the fourth wall by having characters talk to the reader, acknowledge that they're in a manga, and reference other manga, anime, and pop culture.
POSSIBLE AUDIENCE: What sets Hayate apart from other manga set at schools are the characters – particularly the leads Hayate and Ojô-sama, simply because there is a lot to them, both in terms of back story and potential. Those readers who like characters that keep calling them back for more stories, will like this.
B
Shop Hayate at the Amazon aStore.
Last Updated: September 6, 2021 - 08:15