Hayate the Combat Butler: Volume 21 manga review
By Leroy Douresseaux
February 12, 2013 - 14:54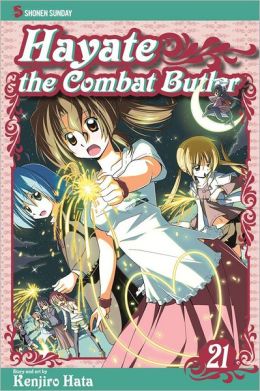 Hayate the Combat Butler Volume 21 cover image is courtesy of barnesandnoble.com.
Rated "T+" for "Older Teen"
Hayate Ayasaki has worked various part-time jobs to pay off his degenerate parents' gambling debts. They even sold Hayate's organs to the yakuza to cover those debts, just before they disappeared. Fate brings Hayate to teenaged heiress, Nagi Sanzenin AKA "Ojô-sama." She is the frequent target of kidnapping plots and various schemes by people trying to get her money. Hayate becomes Ojô-sama's butler, zealously protecting her, while she falls in love with him.
As Hayate the Combat Butler, Vol. 21 opens, Hayate, Nagi, and their friends: Hinagiku, Izumi, Ayumu, Segawa, and Nishizawa continue their Golden Week vacation in the Greek Isles. The kids are having some fun in the sun near the Sanzenins' palatial estate on Mykonos, but "The Stone of Bonding" ends up being the focus of many people. What is the Stone of Bonding (also known as "the Ougyoku")? In this pretty bauble, which hangs around Hayate's neck, rests the fate of the Sanzenin family's vast and considerable fortune.
Family patriarch, Mikado Sanzenin Ojii-Sama spells out the conditions of his will. Meanwhile, the first two people making a play for the fortune confront Hayate. First is Gilbert, one of the Lucky Clovers. His method of combat is beach volleyball. Next, is "Sister," a nun familiar to Hayate.
THE LOWDOWN: With each volume of the Hayate the Combat Butler manga, I find myself enjoying the series more than before. Although the series is composed of story arcs, each volume of Hayate the Combat Butler is composed of several chapters, some of which are individual, self-contained episodes. Think of this series as a situation comedy that uses anime and manga culture for source material.
Creator Kenjiro Hata does his best storytelling when he focuses on the relationships between the characters. Hayate the Combat Butler Volume 21 offers lots of that, and the more I see of these characters, the more I like them.
POSSIBLE AUDIENCE: Readers looking for comedy about manga and anime can find one in the Shonen Sunday manga, Hayate the Combat Butler.
Rating: A- /10
Last Updated: August 31, 2023 - 08:12