Hayate the Combat Butler: Volume 28 manga review
By Leroy Douresseaux
September 15, 2016 - 11:45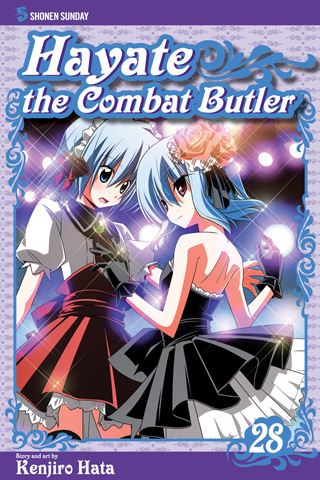 Hayate the Combat Butler Volume 28 cover image
Rated "T+" for "Older Teen"
Since he was 9-years-old,
Hayate Ayasaki
has been working to pay off his degenerate parents' gambling debts. Before they disappear, the parents sell their son's organs to the yakuza to cover their debts. Hayate is working various part-time jobs to pay off the debts when fate brings Hayate to teenage heiress,
Nagi Sanzenin a/k/a "Ojô-sama."
She is the frequent target of kidnapping plots and of various schemes by people trying to get her money. Hayate becomes Ojô-sama's butler, zealously protecting her, while she falls in love with him.
As
Hayate the Combat Butler

, Vol. 28
opens, Hayate and Ojo-sama are still attending the
doujinshi
(amateur comics) convention called Comic Sunday a.k.a. "
ComiSun
." Hayate is caught up in some crazy cosplay when he has to be "
Invincible Maidstar
" to fight off a pesky robot/mecha. Meanwhile, Ojo-sama will finally get to meet the creator of the doujinshi manga, "
Fry Dolphin
."
Then, Hayate has new girl problems. First, his new friend,
Ruka Suirenji
, thinks that Hayate is a girl because she first meets him when he is Invincible Maidstar. Boy, will he be surprised by Ruka's true profession. Next, he meets a little girl who looks just like the currently AWOL Athena, and she needs Hayate to care for her... and he needs help doing it.
THE LOWDOWN:
The
Hayate the Combat Butler
manga continues to be as charming and as entertaining as ever. A parody and send-up of manga and anime tropes and conventions, this series is perfect for the serious otaku.
Without spoiling it,
Hayate the Combat Butler Volume 28
is a treasure trove of comedy about robots, idols, maid cosplay, and mangaka.
Kenjiro Haga
adds to his winning cast with new characters and new settings for familiar characters.
Hayate the Combat Butler
is too easy to like... at least to me.
POSSIBLE AUDIENCE:
Readers looking for comedy about manga and anime can find laughs in the Shonen Sunday manga,
Hayate the Combat Butler
.
A
Rating: A /10
Last Updated: January 24, 2022 - 11:00