Harry Potter and the Order of the Phoenix
By Leroy Douresseaux
July 27, 2007 - 11:10
Harry Potter and the Order of the Phoenix (2007)
Starring: Daniel Radcliffe, Emma Watson, Rupert Grint, Ralph Fiennes, Michael Gambon, Maggie Smith, Alan Rickman, Imelda Staunton, Robbie Coltrane, Jason Isaacs, Matthew Lewis, Emma Thompson, Helena Bonham Carter, Gary Oldman, David Thewlis, Brendan Gleeson, Bonnie Wright, Katie Leung, and George Harris
DIRECTOR: David Yates
WRITER: Michael Goldenberg (based upon the book by J.K. Rowling)
PRODUCERS: David Barron and David Heyman
GENRES: Fantasy, Drama, Action, Mystery, Thriller
RATING: MPAA – PG-13 for sequences of fantasy violence and frightening images
DISTRIBUTOR: Warner Bros. Pictures
Harry Potter (Daniel Radcliffe) enters his fifth year at Hogwarts School of Witchcraft and Wizardry with something of a bad attitude. He's spent another miserable summer with his sour and despicable relatives, the Dursleys, and none of his friends, especially Hermione Granger (Emma Watson) and Ron Weasley (Rupert Grint), had the decency to contact him. Feeling hungry and edgy for news from the magic world, Harry discovers that his friends have been keeping secrets from him, and Harry's anxious to know if there is any news about the activities of the recently revived Lord Voldemort (Ralph Fiennes).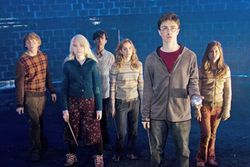 Harry and his small army
Returning to Hogwarts isn't any relief. The new "Defense against the Dark Arts" instructor, Dolores Umbridge (Imelda Staunton) is a notorious busybody intent on bending both faculty and staff to her iron will. She does her best to discourage spell-casting and any discussion of Voldemort, who is often referred to as "He who must not be named." Harry, however, gathers a small, loyal group of classmates and trains them to be his secret army for when (not if) Voldemort strikes. Harry also meets the remnants of the Order of the Phoenix, an organization founded by Albus Dumbledore (Michael Gambon) to counter Voldemort. Still, most of the magic community is willfully blind to the signs that Voldemort is rebuilding his army, and Harry isn't sure that his own small army will be up to the task of stopping the Dark Lord.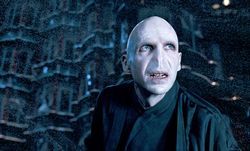 The Dark Lord
Harry Potter and the Order of the Phoenix is darker than the other Potter films. It's darker even than 2005's Harry Potter and the Goblet of Fire, but Order of the Phoenix is much less expansive than Goblet of Fire or 2004's Harry Potter and the Prisoner of Azkaban, both of which were large, elegant films with high production values and epic stories. Order of the Phoenix is leaner and meaner. David Yates directs some of this film as if it were a TV movie, but the Potter magic shines through Yates determination to make a terse drama. The costumes are darker, and the art direction and set decoration is mostly spare.
The film's opening act is fast paced and edgy, and the last act is killer. In between are some truly exciting and thrilling moments, but most of the middle involves the tiresome subplot which sees Dolores Umbridge take on the status quo at Hogwarts. The Umbridge character as portrayed in the film is annoying, and not always in an entertaining manner. When Voldemort attacks in the last act, the appearance of the dark lord almost makes me forget the dour Hogwarts segment… almost.
B
Shop Harry Potter at Amazon.
Last Updated: September 6, 2021 - 08:15