Graphic Audio - "A Movie In Your Mind"
By Christopher Moshier
Sep 6, 2008 - 11:06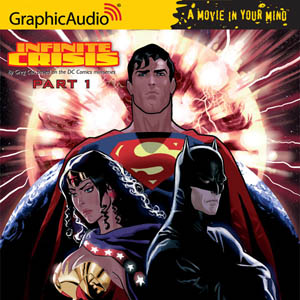 Infinite Crisis is an epic 13 hour audio drama adapted from the DC mini-series
Are you like me who is either sick and tired of talk radio or listening to the same songs over and over playing on your favorite radio station while commuting? Are you like me who loves the character, ideas, and world of the comic book and superheroes? Are you like me who loves the excapism of audio dramas, something where you can just close your eyes, filling your mind with images from the sounds that are entering your ears? If you answer yes to these questions then I direct you to the company Graphic Audio who has put together some fantastic, ambitious audio drama based on the DC universe.
When Graphic Audio contacted the Comic Book Bin offering to preview their first DC Audio Drama I figured I did the fan film section for the site so I may as well see what this was about. My thinking was this is a fan audio production. I had never heard of Graphic Audio. I hadn't read any news about DC commissioning any audio dramas. My expectations were low. When I listened to the first few minutes of what was sent I thought HOLLY MOLLY - I didn't really say MOLLY.
Infinite Crisis is a seven-issue limited series of comic books written by Geoff Johns with the first issue seeing release in late 2005. The series storyline is a sequel to the classic Marv Wolfman 1985 limited series Crisis on Infinite Earths. The Infinite Crisis spotlights the three big heavies of the DC Universe; Superman, Batman and Wonder Woman who have a lot of baggage from the stories leading into the mini-series. As the story proceeds they, along with multiple characters from the DC mythos, have to deal with menacing cyborgs, a society of supervillians, an alien war, and a rampage of mass preportions to wipe out every magical being. Infinite Crisis is a multi-faceted storyline that crescendos with a climax that ties up the key plot points, but also introduces new ones to lead into the equally massive 52 series. DC commissioned a novel adaptation of the series written by long time science fiction author Greg Cox. It was this novelization that Graphic Audio used to produce an impressive audio drama released in 2007 that spans thirteen hours.
I listened to the Infinity Crisis drama as I drove to and from Rochester, NY to Columbus, OH for the S.P.A.C.E. comic book convention a couple years ago. The drive is about six hours. A long drive is a perfect time to listen to audio drama. You're in the little cab of your vehicle with nothing much to do but look for one road sign after the other. In the case of Infinity Crisis the drive was extremely more bearable.
There's a lot of narrative during the entire drama voiced and directed by Richard Rohan (who also does a mean Batman). There's a massive cast that deliver sound performances. Specifically, I must point out Colleen Delany, Richard Rohan (again), and James Konicek who get the three DC heavies right as well as Thomas Penny doing a dead on Martian Manhunter. The rest of the cast was excellent delivering multiple duties in portraying a variety of characters in the DC Universe. The die hard fans will easily nit pick on the actor's choices for some of the characters, but the casual listener, like myself, won't sweat the small stuff.
Sound for this entire production is nothing but awesome. The music score was epic and the sound effects resonated through my car stereo just as if I was sitting in a movie theater.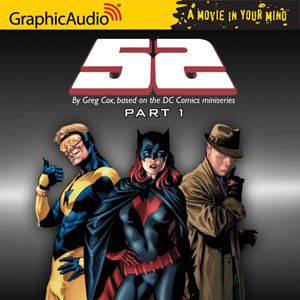 The follow-up to Infinite Crisis was 52 based on the weekly comic series of the same name.
About six months later in my email was another radio drama sent from Graphic Audio based on the year long weekly DC series 52. As you're probably aware after the Infinity Crisis ended DC leaped their books to a year later format. The 52 series chronicled the story of that missing year. Again, I never read the series. I collect the Titans and Outsider books so I had an inkling of what the concept was about, but not the big picture. Superman, Batman and Wonder Woman took a year long vacation from being a superhero so the story revolves around the other heroes who pick up the slack so to speak. Once again Greg Cox adapted the comic series along with the World War III tie-in mini series into a novelization. Cox took liberties with the story cutting out certain plot points in order to make the novel of a desired length. Once again, armed with most of the original cast of Infinite Crisis, Graphic Audio adapted the novelization into an audio drama. And once again they did a stellar job. My expectations were high this time out now that I knew what Graphic Audio was. Richard Rohan was back in the directing reins pumping out another quality 13 hour epic.
Since the beginning of the year Graphic Audio has produced three other audio dramas; Superman: The Never-Ending Battle, Batman: The Stone King, JLA: Exterminators all adapted from in a new series of novels featuring the Justice League of America. If they hold true to form I imagine Wonder Woman: Mythos, Green Lantern: Hero's Quest and The Flash: Stop Motion isn't too far behind. I haven't listened to these particular ones so I'm not certain if they hold up to the same quality as Infinite Crisis or 52. The trend seems to be DC puts out the novel and Graphic Audio adapts them which to me is limited. It's not a shame that they're adapting the news novels, but a shame Graphic Audio can't dramatize some of the other classic DC storylines like Crisis on Infinite Earths, Teen Titans Judas Contract, The Killing Joke, Sinestro Corps War and the list could go on forever.
Graphic Audio also has a catalog of other concepts and characters not necessarily dealing with comic books. If you like audio dramas I recommend you check out their website and listen to some of their audio examples available. I think you'll be impressed.
Last Updated: Dec 19, 2017 - 22:52