Comics / Comic Reviews / More Comics
Glitterbomb #2 comics review
By Leroy Douresseaux
October 27, 2016 - 23:23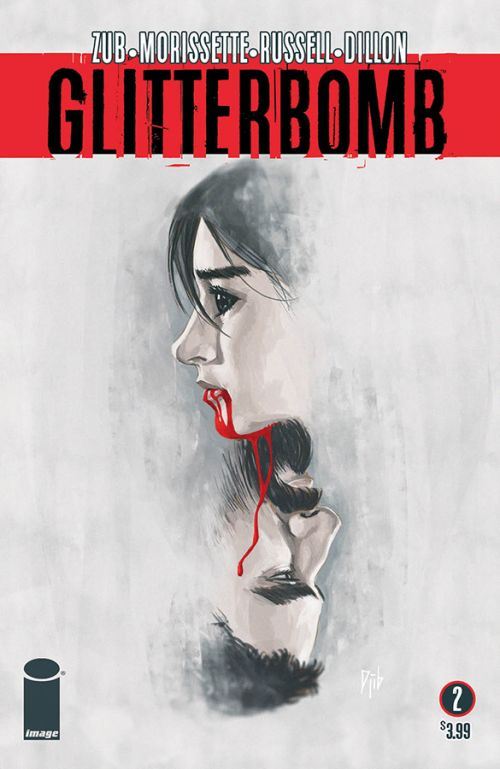 Glitterbomb #2 cover image
Glitterbomb created by Jim Zub and Djibril Morissette-Phan

Part 1: "24/7, 365"
Glitterbomb
is a new comic book series from the team of writer
Jim Zub
and artist
Djibril Morissette-Phan
. Published by Image Comics, it is written by Zub; drawn by Morissette-Phan; colored by K. Michael Russell; and lettered by Marshall Dillon. Glitterbomb is a horror story about fame and failure and focuses on, Farrah Durante, a middle-aged actress struggling in Hollywood and her dark and supernatural secret.
Glitterbomb

#2
("24/7, 365") opens with Brooke, an actress who had a contentious meeting with Farrah. Brooke seeks to examine that meeting a little closer. Meanwhile, Detective Isaac Rahal is investigating the apparent murder of Farrah's agent, Roger Tulder. Plus, Farrah returns (in a manner of speaking) to the show that made her famous, "Space Farers."
THE LOWDOWN:
While I am still trying to uncover the supernatural element in Glitterbomb, I find myself endlessly fascinated with series lead, Farrah Durante. One of the best aspects of Jim Zub's writing is that he makes his characters' frustrations, dilemmas, and trials and tribulations resonate with the reader. Farrah's troubles certainly seem genuine, which made me sympathetic to her. Something is up with this chick, and I want to know what and more.
While newcomer artist Djibril Morissette-Phan is surprisingly polished, he continues to assert control over this narrative with a mood of mystery and with a tense pace. His storytelling is sharp, efficient, and clear. I think that Morissette-Phan puts the explosion in Glitterbomb, and well, I am curious to see where he goes with this series.
I READS YOU RECOMMENDS:
I think that Glitterbomb will appeal to readers who enjoy reading stories about the dark side of the Hollywood dream factor.
[This issue includes the essay "Production Seduction – Stabbed in the Back with a Smile" by Holly Raychelle Hughes.]
B+
Rating: B+ /10
Last Updated: August 31, 2023 - 08:12