Gin Tama: Volume 23
By Leroy Douresseaux
August 1, 2011 - 14:40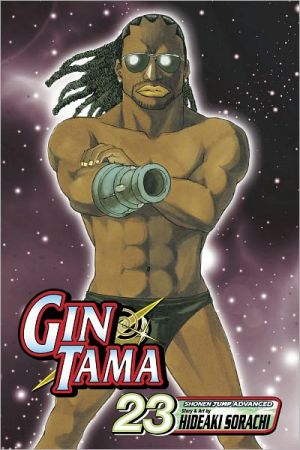 Gin Tama Volume 23 cover image is courtesy of barnesandnoble.com.
Rated "T+" for "Older Teen"
In an alternate-universe, aliens invaded Japan and took Edo (Tokyo) as their base of power. These invaders, called the Yato, took all the good jobs. They also confiscated all the swords, and the samurai, who'd reached the pinnacle of their power and prosperity, fell into decline. However, one samurai, Gintoki "Gin" Sakata, held onto his fighting spirit and his wooden sword.
Gin is a "yorozuya," an expert at managing trouble and handling the oddest jobs. In Gin Tama, Vol. 23 (entitled People Almost Always Fight on Trips), we learn of Gin's first band of yorozuya. Next, Gin and his pals/ new yorozuya: his second-in-command, Shinpachi Shimura; the female Yato warrior, Kagura; and Shinpachi's sister, Otae the hostess, arrive at Senboukyo Hot Springs for a relaxing vacation and find nothing but ghostly troubles.
THE LOWDOWN: Like many shonen comedies, Gin Tama is odd, eccentric, and just down-right weird. It is also a little bit of everything comedy, science fiction, fantasy, and horror: aliens, space travel, monsters, ghosts, martial arts, innuendo, violence, gangsters, slapstick, etc. A mélange of rowdy and ruff characters, Gin Tama is a feast of inventive scenarios and imaginative characters and creatures.
Sometimes, it seems less like a story and more like a catalog of weirdness. Still, it is fun to read just because you never know what strange thing is going to pop up from one page to the next. Take that cover, for instance. It makes this volume a must have.
POSSIBLE AUDIENCE: Fans of strange, sci-fi shonen will like Gin Tama.
B+
Last Updated: January 24, 2022 - 11:00