Comics / Comic Reviews / Marvel Comics
Generations: Hawkeye & Hawkeye #1 comics review

By Leroy Douresseaux
September 1, 2017 - 19:07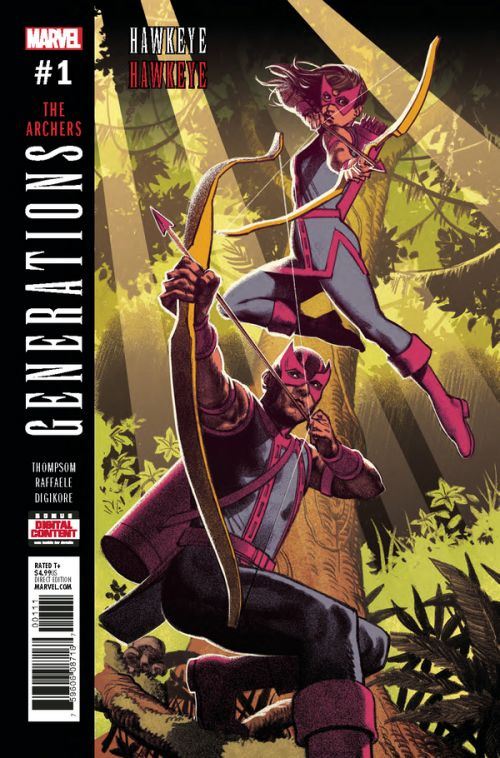 Generations: Hawkeye & Hawkeye #1 cover image
Rated T+

Hawkeye created by Stan Lee and Don Heck

"The Archers"
Generations
is a currently ongoing event miniseries from Marvel Comics. It is a planned 10-issue anthology, published weekly. Each issue is written and drawn by a different creative team, and each issue will feature a different team-up of a classic Marvel superhero with his or her modern-day counterpart. The series is meant to unite the legacy of classic Marvel Comics characters with the next generation of heroes as both move into the future of Marvel Comics storytelling.
The fifth issue is
Generations: Hawkeye & Hawkeye
, which brings together two versions of a classic Marvel Comics character,
Hawkeye
. The first is the classic Hawkeye, the former criminal turned Avenger who was first introduced in
Tales of Suspense
#57 (cover date: September 1964). He is also known as
Clint Barton
. The second is the new Hawkeye,
Kate Bishop
, who now headlines the current ongoing Hawkeye comic book. This issue of Generations is written by
Kelly Thompson
; drawn by
Stefano Raffaele
; colored by
Digikore
; and lettered by
Joe Sabino
.
Generations: Hawkeye & Hawkeye

#1
("The Archers") opens on an unknown island. This adventure, which Kate narrates, involves a mysterious game. An unknown mastermind has gone through time and space to locate Earth's best marksmen and then spirited them to this island. Kate Bishop-Hawkeye meets Clint Barton-Hawkeye, and Clint is immediately suspicious of Kate. The two will have to work together if they want to discover the identity of the person behind this game. First, however, they must survive the other players, killers like
Boomerang
,
Taskmaster
, and
Bullseye
!
THE LOWDOWN:
The purpose of
Generations: Banner Hulk & Totally Awesome Hulk
#1 was for Bruce Banner to tell the Totally Awesome Hulk/Amadeus Cho that he would not be able to escape all the tragic aspects of the curse of the Hulk.
Generations: Phoenix & Jean Grey
#1 found two women reluctant and/or incapable of telling each other everything they knew about the curse of The Phoenix
Generations: Wolverine & All-New Wolverine
#1 is mainly just a slice-and-dice Wolverine adventure featuring the classic Wolverine and the All-New Wolverine.
Generations: The Unworthy Thor & The Mighty Thor
#1 is merely a Thor fight comic book featuring two Thors.
Generations: Hawkeye & Hawkeye #1 is an upgrade from the previous Thor edition. This Hawkeye reunion does feature a Clint Barton who does not yet know Kate Bishop, but that manages to give some dramatic heft to writer Kelly Thompson's tale of mentors and role models. Thompson juxtaposes two flawed men and how each can be a mentor, but each with a different goal in mind for the person he is mentoring. Generations: Hawkeye & Hawkeye #1 is like a delightful annual from the days when comic book annuals offered exceptional or at least high-quality one-off stories. Stefano Raffaele's art recalls the clean, slick styles of 1960s comic books, with a touch of Bryan Hitch, and Digikore's coloring is just right. I was actually kinda sad that this comic book had to end.
In a previous review, I wrote that with Generations Marvel Comics runs the risk of publishing several issues of an event comic book that read like nothing more than, at best, mediocre, "Annuals," published for the sake of being published, or, at worst, filler material. For the most part, DC Comics avoided that last year with its introductory "Rebirth" one-shots; most of those had a point or a purpose – introducing the direction of a Rebirth-relaunched DC comic book. So far, Marvel's Generations has not been as... utilitarian.
I READS YOU RECOMMENDS:
If you are reading Marvel Comics' Generations, keep reading.
A
8 out of 10
Last Updated: September 6, 2021 - 08:15