Comics / Comic Reviews / Marvel Comics
Generations: Wolverine & All-New Wolverine #1 comics review

By Leroy Douresseaux
August 18, 2017 - 21:48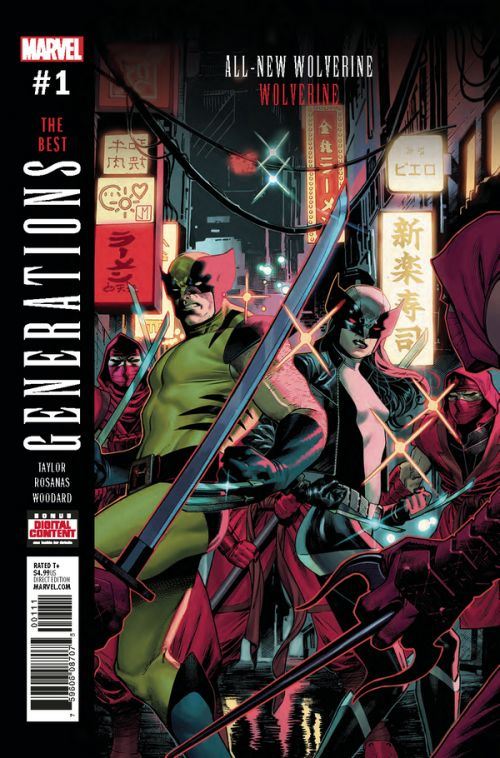 Generations: Wolverine & All-New Wolverine cover image
Rated T+

Wolverine created by Len Wein and John Romita, Sr.

"The Best"
Generations is the currently ongoing 10-issue anthology, weekly comic book series published by Marvel Comics. Each issue is written and drawn by a different creative team, and each issue will feature a different team-up of a classic Marvel superhero with his or her modern-day counterpart. The series is meant to unite the legacy of classic Marvel Comics characters with the next generation of heroes as both move into the future of Marvel Comics storytelling.
The third issue is
Generations: Wolverine & All-New Wolverine
, which brings together the classic
Wolverine/Logan
of X-Men fame and his clone-daughter, the
All-New Wolverine
,
Laura Kinney
. This comic book is written by
Tom Taylor
; drawn by
Ramon Rosanas
; colored by
Nolan Woodard
; and lettered by
Cory Petit
.
Generations: Wolverine & All-New Wolverine

#1
("The Best") opens in Tokyo, Japan. Wolverine is cutting his way through a horde of The Hand's zombie ninja. They stand between him and his kidnapped daughter, Akiko. There is a problem, however; Wolverine is about to lose and die. Suddenly, in steps a young woman, unknown to Wolverine, but wearing familiar clothes and also bearing metal claws. This Wolverine-like young woman is different, but like Logan, she is the best at what she does. Two Wolverines will need to be the best if they are to survive an old enemy.
THE LOWDOWN:
The purpose of Generations: Banner Hulk & Totally Awesome Hulk #1 was for Bruce Banner to tell the Totally Awesome Hulk/Amadeus Cho that he would not be able to escape all the tragic aspects of the curse of the Hulk. Generations: Phoenix & Jean Grey found two women reluctant and/or incapable of telling each other everything they knew about the curse of The Phoenix
Generations: Wolverine & All-New Wolverine #1 is mainly just a slice-and-dice Wolverine adventure featuring the classic Wolverine and the All-New Wolverine. It is, however, a well-executed Wolverine slice-and-dice story via the efforts of writer Tom Taylor and artist Ramos Rosanas. The only creators who could have done better than Taylor-Rosanas are some combination of Frank Miller, Klaus Janson, and David Mazzuchelli; the team of Mark Millar and John Romita, Jr.; and finally Barry Windsor-Smith by himself.
I could have done without the mushy stuff at the end. Part of me wants Marvel to let Wolverine be Wolverine. That would be the stone cold killer of the early "new" X-Men of the mid-1970s, and not the Logan softened from being part of the X-Men family and by the tragedy of Jean Grey/The Phoenix. That said, I like this action-packed, violent fight comic and its surprising guest appearance.
I READS YOU RECOMMENDS:
Fans of Wolverine and/or All-New Wolverine comic books will want to read
Generations: Wolverine & All-New Wolverine
#1
A-
7.5 out of 10
Rating: 7.5 /10
Last Updated: January 24, 2022 - 11:00