Comics / Comic Reviews / Comic Strips
Garfield: 30 Years of Laughs & Lasagna
By Leroy Douresseaux
November 19, 2008 - 11:33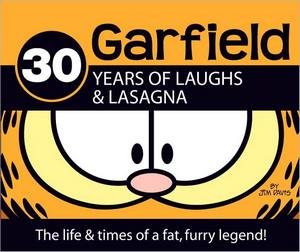 Thanks to barnesandnoble.com for the Garfield 30 Years of Laughs & Lasagna cover image.
It currently holds the Guinness World Record as the world's most widely syndicated comic strip, appearing in over 2500 newspapers as of 2007 and being read by an estimated 230 million people (according to the publicity department at Ballantine Books). Debuting on June 19, 1978, the long-running daily newspaper comics strip, Garfield, celebrates its 30th birthday this year.
Ballantine Books recently released Garfield: 30 Years of Laughs & Lasagna, a hardcover collection of Garfield comics strips, early sketches of the strip's cast by creator Jim Davis, quotes, and fun facts (such as the fact that the Garfield strip was originally titled Jon, after Garfield's hapless owner, Jon Arbuckle). The strips are divided into three sections (1978-1988, 1988-1998, and 1998-2008), each one offering a selection of strips from that particular ten year period.
There are three things that I always remember about Garfield and its title character and star – the lazy, obese, cynical, and sarcastic cat, Garfield. First, I remember how much I loved that strip as a kid (though not nearly as much as I loved my beloved Peanuts). Secondly, I recall the mini-controversy about how much of the strip creator Jim Davis was actually creating that emerged by the end of the strip's first decade. Lastly, I could never forget the wave of Garfield merchandising that seemed to sweep America in the 1980s. Especially burned into my brain is the suction-cupped, plush toy (apparently known as "Stuck on You") that adorned so many automobile windows.
Well, I don't like Garfield as much as I once did. That Davis apparently, at least for a time, only provided the story and sketches for the Garfield strip and left the actual drawing to employees of his company, Paws, Inc., only bothered me a little bit for a little while. Sure Charles Schulz wrote, drew, and lettered every one of his Peanuts strips for 50 years, but Schulz shouldn't be used as a measuring stick: first because Schulz is so freakin' beyond just about every other newspaper comics creator and secondly because Jim Davis' can never ever be a Schulz even if Davis sold his soul to Satan, while Davis stood in field full of lucky, four leaf clovers located on a unicorn ranch.
It's the thing for which I most remember Garfield that Garfield: 30 Years of Laughs & Lasagna is so painfully and obviously lacking. Garfield may be a massively popular comics strip, but much of its fame, if not most of its fame, comes from the media and merchandising the have spun off from the strip. Yet Garfield: 30 Years of Laughs & Lasagna barely makes mention of this ancillary deluge. [I don't know what territory the 2003 book, Garfield at 25, covered.] Garfield may be 30 years old, which is certainly worth noting, but many less popular and/or acclaimed strips have lasted as long.
Garfield the comic strip is mostly a vehicle for Garfield the cat, who is more a multi-platform media icon than he is a comic strip character. The countless figurines and toys, the statues, the 46 strip book compilations (with a 47th due early next year) and dozens of other books, an animated Saturday morning TV series (1988-94), two live action feature films (which I both liked), over a dozen video games, and more attest to that.
This isn't to say that Garfield is a bad strip. It's a consistently funny gag strip with a title character that is as appealing as a fictional character can get. Garfield: 30 Years of Laughs & Lasagna, however, is merely a collection of gag strips, and the four hundred or so strips contained here could have been replaced with any other large group of Garfield episodes. Without covering all the media and merchandising that is Garfield, this book isn't an anniversary book; it's merely a strip collection… which isn't necessarily a bad thing.
Last Updated: January 24, 2022 - 11:00