Game x Rush: Volume 2
By Leroy Douresseaux
November 14, 2009 - 10:23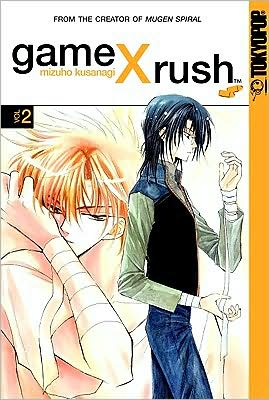 Game x Rush Volume 2 cover image is courtesy of barnesandnoble.com.
Drama; Rated "OT" for "Teen-Age 16+"
Memori Fujieda was adopted into the Fujieda family. Now, a college student Memori is the pretty boy mascot for Fujieda Bodyguard Office. Memori is also the company's only bodyguard, and he solves cases with love and justice and protects damsels in distress. Memori thinks that he has finally found the perfect partner in Yuuki Shin, but Shin is an assassin who seems to know all Memori's secrets.
As Game x Rush, Vol. 2 opens, Yuuki Shin remains in the hospital, recovering from stab wounds he received while protecting Memori, but Yuuki keeps trying to escape his hospital bed. Why is he so anxious to leave? Who is he really, and where does he live? Yuuki won't make it easy for Memori to answer those questions, but Memori's brother, Kenjuo "Ken" Fujieda, and family friend, Himiko, seem to know more about Yuuki's past than they are telling. Memori is determined to separate fact from fiction regarding Yuuki, but that past may have something to do with Memori's own mysterious past.
THE LOWDOWN: Memori and Yuuki are such enjoyable characters that I would follow their adventures regardless of the plots. What makes them so engaging is both who and what they are. They are two young men with good hearts. While Memori blossoms under the care of his loved ones (Ken and Himiko), Yuuki struggles to hold onto his own bizarre and troubling family dynamic, so they make a good compare and contrast.
What they are goes to the heart of Game x Rush. Memori and Yuuki are bishounen (beautiful boy) characters – feminized or androgynous male characters. Because creator Mizuho Kusanagi keeps these two characters so close together, their story sometimes seems like a tale of budding romance. Game x Rush could be seen as a boys' love manga, the genre of Japanese comic books that depicts romantic love between male characters. In the story, the idea that they might be dating repulses these pretty boys, but the closeness of their relationship is the main draw of this manga. This hot bishounen action always offers a twist, making this story of friendship always interesting.
POSSIBLE AUDIENCE: Readers looking for a tale of friendship with a deadly twist and a heartwarming mood will enjoy Game x Rush.
A-
Last Updated: August 31, 2023 - 08:12