Game x Rush: Volume 1
By Leroy Douresseaux
July 10, 2009 - 12:01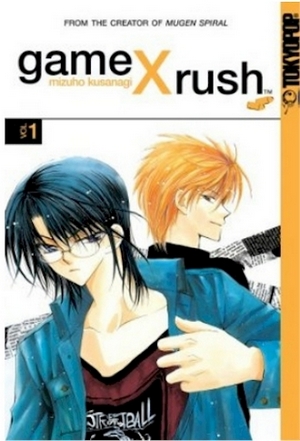 Game x Rush Volume 1 cover image is courtesy of Anime Castle Books.
Drama; Rated "OT" for "Teen-Age 16+"
College student Memori Fujieda is the pretty boy mascot for his bodyguard agency. He's also the company's only bodyguard, solving cases with love and justice and protecting damsels in distress. Memori thinks that he's found the perfect partner in Yuuki Shin, but Shin is an assassin who seems to know all Memori's secrets.
As Game x Rush, Vol. 1 opens, Memori is finding that his position as both the most successful and only body guard at Fujieda Bodyguard Office is taking from his studies. His brother, Kenjuo Fujieda, the company president, isn't making much of an effort to hire new employees, perhaps, because he can't afford new employees. Memori thinks he's found an eligible candidate in high school student Yuuki Shin, but Yuuki turns out be the assassin hired to kill one of Memori's client.
Thus, begins a game – a rivalry between the two young men, but along the way, they find that they have things in common. Their activities even catch the notice of 13-year-old Sayako Oumi. She's the president of the Oumi Bodyguard Dispatching Company or G-ING, and she wants Memori and Yuuki to be her new employees.
THE LOWDOWN: The publisher describes Game x Rush as a "drama" on the book cover. That's not a good job of selling what is an unusual and flavorful drama. Game x Rush is part family comedy, part workplace comedy, part youth drama, and part romance, but it also has elements of a detective/gun-for-hire television drama. There are some bishounen (pretty boy) aspects to this series, mostly having to do with Memori and Yuuki's good looks, but that's mostly superficial.
Memori and Yuuki are quality characters. Both have excellent back stories that will pique readers' interests. Yuuki is dangerous, unpredictable, and sometimes surprisingly sentimental. Memori is a strait-laced, good guy. Creator Mizuho Kusanagi's (Mugen Spiral) quirky drawing style (which often looks like the work of a talented, but unpolished amateur) is pitch perfect for this idiosyncratic and entertaining series.
POSSIBLE AUDIENCE: Readers who enjoy odd dramas will enjoy Game x Rush.
B+
Last Updated: June 23, 2021 - 00:45