Captain America Gaming Retrospective
By The Editor
March 18, 2007 - 11:04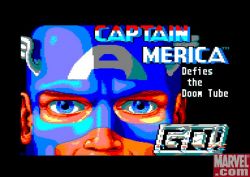 Captain America Defies The Doom Tube
The Marvel Universe, nay, the world at large, is in mourning after the death of Captain America. Gunned down in cold blood, the Sentinel of Liberty still had so much to give. With his flame extinguished in the comic world, we at Marvel.com wanted to carry his torch to shine the spotlight on Cap's appearances in video games, a medium he had far too few contributions. Or did he? Read on and explore the history of Captain America in video games, sorted chronologically with platform, developer and publisher info.
Captain America Defies The Doom Tube
Amstrad CPC, ZX Spectrum and Commodore 64
1987; U.S. GOLD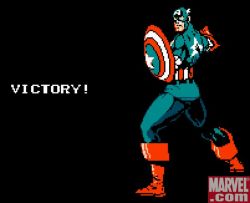 Captain America and the Avengers
1987, a time when 64K of memory for a computer was considered bountiful and Nintendo was in the midst of transforming the video game market. '87 also marks Captain America's debut into the video game world, appearing on a handful of early home computers--ancient and powerless compared to today's beasts. The game puts you in role of Captain America as you are given one hour to infiltrate Dr. Megalomann's desert headquarters--the Doom Tube--survive his nefarious traps, break lots of stuff with your shield, deactivate a world-threatening missile and save the planet from destruction. On the Fourth of July. A seemingly impossible task for anyone else, but luckily, you're Captain America.
Captain America and the Avengers
Arcade, Genesis, Game Gear, SNES, Game Boy 1991; Data East, Mindscape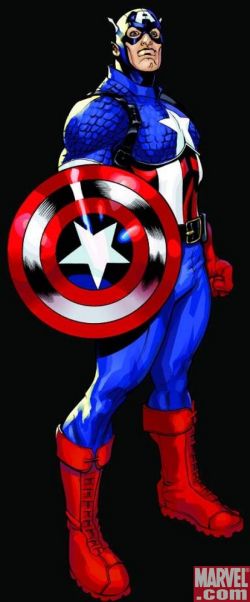 Marvel Super Heroes
"Avengers Assemble!" Were the first sense shattering sounds heard in this arcade classic, later ported to home consoles. A quarter-sucking, coin-op game of a time long forgotten in, where kids would line up at arcades everywhere to drop the entirety of their allowance for a measly hour of entertainment. And oh how fun it was! Very similar in style to the X-Men and TMNT arcade games, up to four people could play together in this brawl-for-all extravaganza, picking from the obligatory Captain America, Iron Man, Vision, and Hawkeye, as you battle through New York City, through the underwater realm of Atlantis, and eventually to the moon where you must thwart Red Skull in his nefarious plan to destroy the earth. Ok, so it's a little cliché, but the game was just solid fun.
Marvel Super Heroes
Arcade, Sega Saturn and Playstation
1995; Capcom
And what could be better deserved than a starring role in Marvel Super Heroes. With their widely successful Street Fighter series tearing it up at arcades worldwide, Capcom took their winning formula to the Marvel Universe. Following up on the stellar X-Men: Children of the Atom, Marvel Super Heroes uses the same type of gameplay, but eschews an all-X lineup for the likes of Spider-Man, Hulk, Iron Man and, of course, Captain America. The story was loosely based around the Infinity Gauntlet storyline, where during the course of the game, the heroes and villains would slug it out over for control of the Infinity Gems, and eventually confront Thanos in a cataclysmic battle that would determine the fate of the universe. This one, whether you're a Cap fan or not, is well worth the effort to track down.
Marvel Vs. Capcom 2: New Age of Heroes
Arcade, Dreamcast, PS2 and Xbox
2000, Capcom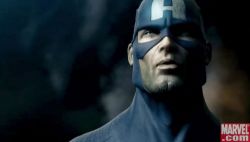 Marvel Vs. Capcom 2: New Age of Heroes
Captain America was just one of the over 50 playable characters in the massive 2-D fighter. MvC2 allowed players to man a team of three characters that you could switch between at any time, or summon for some quick aid, with three special move options each. The game play was streamlined to make it more accessible to a greater range of players, while it maintained its speed and aggressiveness. The end boss was Abyss, which turned out to be a mysterious metal sphere. Upon his defeat, unlike every other Capcom fighting game up to this point, and probably the only real downside to the game, there is no character-specific ending sequence. The console versions offered tons of replay value with the ability to unlock more characters, new stages, and multiple costumes for each character.
Last Updated: September 6, 2021 - 08:15