Fullmetal Alchemist: Volume 21
By Leroy Douresseaux
November 17, 2009 - 09:14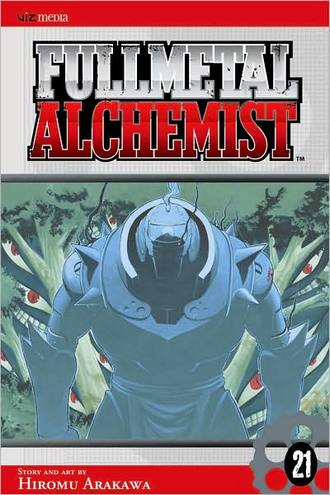 Fullmetal Alchemist Volume 21 cover image is courtesy of barnesandnoble.com.
Rated "T" for "Teen"
In the country of Amestris (located on an alternate-history version of Earth), brothers Edward & Alphonse "Al" Elric take part in a forbidden alchemical ritual that goes wrong. Edward lost a leg, but Alphonse lost his entire body. Edward grafted his younger brother's soul into a suit of armor, a process which additionally costs Edward an arm. Edward replaced his own missing flesh with "auto-mail" limbs. Edward eventually became a state alchemist and continues to serve the Amestris state military. In the meantime, he searches for the Philosopher's Stone, a legendary substance that can restore the brothers' bodies.
In Fullmetal Alchemist, Vol. 21, Roy Mustang and his conspirators set a diabolical trap for President Bradley as a prelude to their attack on Central City. Meanwhile, the homunculus, Gluttony, launches an attack on Al that separates him from his body – his proxy armor body. Next, Edward and Lin Yao/Greed take on the homunculus, Pride, and get help from a surprising ally.
THE LOWDOWN: A good serial drama should carry the reader from one chapter to the next, fingers quickly flipping pages as the eyes greedily take in every bit of story. That's what Fullmetal Alchemist does, and this alternate-history/military drama's dense narrative, complicated plot, large cast, and involved mythology should not turn off potential readers (as it initially did for me). Adventurous readers who look to be challenged by exceptional comic books that will ultimately reward them every time should try this highly addictive manga. The conspiracies and sub-plots, like a tasty meal, are calling you.
POSSIBLE AUDIENCE: Readers looking for excellence in manga will want Fullmetal Alchemist.
A
Last Updated: August 31, 2023 - 08:12