Fluffy, Fluffy Cinnamoroll: Volume 5 manga review
By Leroy Douresseaux
August 30, 2012 - 17:12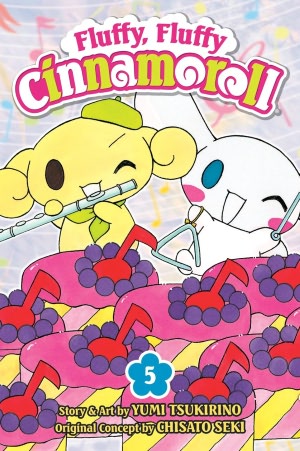 Fluffy, Fluffy Cinnamoroll Volume 5 cover image is courtesy of barnesandnoble.com.
Rated "A" for All Ages
Cinnamoroll is no ordinary pup. No one can bake a cinnamon roll like him; in fact, he loves to chow down on freshly baked cinnamon rolls. When he isn't using his long ears to fly high in the sky, Cinnamoroll hangs out at Café Cinnamon with friends: Chiffon, Mocha, Espresso, Cappuccino, and little Milk, baking goodies for one and all.
As Fluffy, Fluffy Cinnamoroll, Volume 5 opens, Café Cinnamon gets a surprise visitor, a big, talking cookie-man. He has stopped by to invite Cinnamoroll and friends to Café School. This is an elite training program in Dream School Town, the place where the schools which kids dream of attending are located. At Café School, they can learn all sorts of exciting things related to cooking treats, serving customers, and operating a café or bakery.
As soon as he and his pals arrive, Cinnamoroll meets the gang from Black Café. He finds a rival in Black, who thinks of Cinnamoroll as a hick. Black's compatriots, Cocoa and Bitter, are nice to Cinnamoroll. Can they put aside their differences long enough to learn some things and to make some great desserts? This volume also includes some bonus comics strips and also stories featuring the Pretty Cutesy Cinnamon Angels.
So when I dug through the box of VIZ Media review copies sent to me, I wasn't to excited to see a volume of Fluffy, Fluffy Cinnamoroll, which I had first heard of through a press release. By the time I finished reading this fifth volume of the series, I'd enjoyed it. It is the kind of comic book elementary school-age readers may like, although I think the graphics are a bit crowded for those just starting to read comic books. I could be wrong about that, however; Fluffy, Fluffy Cinnamoroll is entertaining enough to engage beginning readers.
Rating: B /10
Last Updated: September 6, 2021 - 08:15