Flesh and Blood book review
By Leroy Douresseaux
December 2, 2014 - 11:45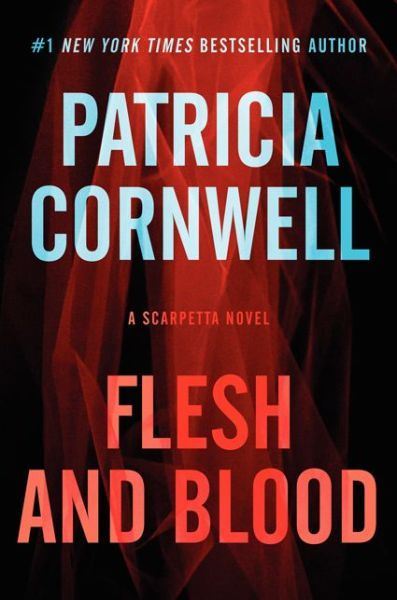 Flesh and Blood cover image is courtesy of barnesandnoble.com.
Follow me on
Twitter
.
Flesh and Blood
is a crime novel by
Patricia Cornwell
. It is the 22nd novel in Cornwell's
Kay Scarpetta
series, which began with
Postmortem
(1990). In
Flesh and Blood
, Cornwell's beloved forensic sleuth tries to unravel the mystery of a serial sniper whose killings and motives seem to strike close to Scarpetta herself.
Flesh and Blood
opens on June 12, 2014, and
Dr. Kay Scarpetta
is going to celebrate her birthday with a much-deserved vacation. She is about to head to Miami with her husband,
Benton Wesley
, an FBI profiler and intelligence analyst. However, as they prepare to leave, Kay spots seven pennies on a wall behind her Cambridge, Massachusetts home. The coins are all dated in 1981 and are so shiny that they could have been newly minted.
Soon afterward, her phone rings and
Detective Peter Marino
of the Cambridge Police Department informs Scarpetta that there has been a homicide five minutes from her home. High school music teacher and controversial public figure,
Jamal Nari
, was shot to death with uncanny precision, and no one heard or saw a thing. Soon, Scarpetta finds herself chasing a serial sniper who leaves behind no incriminating evidence and who seems to be several steps ahead of Scarpetta at every turn. As more people are killed and past murders are connected to this case, Scarpetta begins to realize that her techno-genius niece,
Lucy Farinelli
, may be the killer.
THE LOWDOWN:
Although I have been aware of Patricia Cornwell for over a decade,
Flesh and Blood
is the first novel of hers that I have read – thanks to a review copy from HarperCollins. I have to admit that I almost stopped reading the book after a few pages. Cornwell has a peculiar syntax and odd writing style that, at first glance, seems to be the creation of someone who has a strange way of speaking English. Once I picked up on the rhythm of the prose, however, I had a blast reading
Flesh and Blood
.
I now know why Cornwell makes regular appearances on bestseller lists. She writes page-turning crime thrillers that I had to force myself to stop reading. Every chapter, every single one, offers masterfully crafted whodunit suspense, and there are plot twists and surprises at least every three pages.
Cornwell also offers a large window into Kay Scarpetta's mind (and a smaller one into her soul), which offers a thoughtful approach to the crime scene investigation genre. Cornwell fills this story with lots of forensic, police, and investigative jargon, settings, and science and technology. Cornwell also depicts Scarpetta's thought process as something that works on so many different levels, which brings the readers both emotionally and intellectually into the story. I also found myself emotionally and intellectually invested in
Flesh and Blood
. I wanted to know whodunit, but even more, I wanted to know about the people doing it. Yes,
Flesh and Blood
deserves to be called by that favorite phrase of book reviewers, because it is indeed a "great read."
POSSIBLE AUDIENCE:
Fans of the police procedural and of CSI will want
Flesh and Blood
.
www.patriciacornwell.com
Rating: A- /10
Last Updated: September 6, 2021 - 08:15