Comics / Manga / Yaoi Manga
Takashi Kanzaki's Falling Into Love (Yaoi)
By Leroy Douresseaux
Dec 23, 2008 - 11:06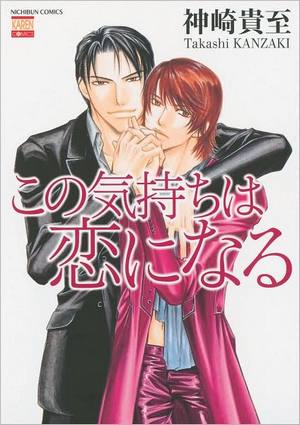 The above art used on the Japanese edition remains on 801 Media's edition.
"18+ Mature Content"
Hisashi Yoshizawa is an amateur who has just entered the world of fashion modeling, but he isn't sure that this is the right profession for him. Hisashi also continues to work on his education, but soon he's having a hard time balancing school and an increasing number of plum modeling gigs. Enter Tomohito.
Tomohito is a top model whose image has graced the cover of fashion magazines everywhere. Hisashi is a longtime fan of Tomohito, mesmerized by the pro's stunning looks and intense eyes. Tomohito notices Hisashi and soon, the two have a physical relationship. However, the older man often seems dismissive of Hisashi, and despite the passion of their relationship, Tomohito will not say the words Hisashi longs to hear. Is Tomohito his dream guy or his worst nightmare?
In Falling into Love, a yaoi manga by Takashi Kanzaki (the creator of Love+Alpha), falling into love is not only not simple, it's surprisingly painful and awkward – even when the sex is extra good! Although the title stories ("Falling into Love" and "Falling into Love 2") tend to be on the awkward side when it comes to narrative, the other stories are skillfully constructed, delightfully scandalous, and certainly exemplify this collection's themes of "pain can be pleasure" and "falling into love is never simple."
The kooky mystery story "Prepare Yourself," about Katsuki, a child abuse victim, and Nakaba, the son of a detective, goes down like a spicy meal of roughage, with a story built around a missing girl and a creepy father. Katsuki's flashbacks of his abuse, which literally paralyze him, give this story some weighty drama that adds substance to this story of Katsuki and Nakaba's flaky romance.
"I Want to be with You," about a shocking love/hate triangle, is a steamy love story with raw love scenes built on awkward teen lust and manic groping. The full-on romantic relationship between a teen boy and his young maternal uncle is outrageous, but add in the boy's jealous father, and the shameful factor soars. Handcuffs and bondage sex close Falling into Love with a raunchy tale about a tutor and his pupil. It may start off with a misstep, but Falling into Love ends with a bang and sweet, sweet moaning.
B+
Last Updated: Jun 26, 2018 - 9:28