Comics / Manga / Yaoi Manga
Takashi Kanzaki's Double Trouble (Yaoi)
By Leroy Douresseaux
February 4, 2009 - 14:14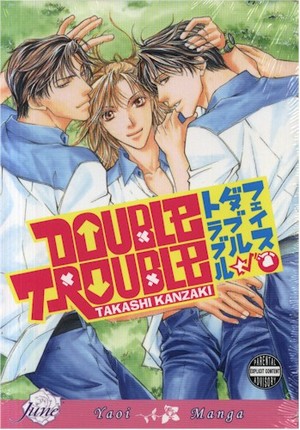 Double Trouble cover image is courtesy of Anime Castle Books.
Rated "M" for "Mature Audiences 18+"
Double Trouble, a yaoi manga tankoubon (collection) by Takashi Kanzaki (Love+Alpha), takes place at Seiran Academy High School, an all-dorm resident, private high school. Here, young men engage in casual, careless sex with other boys in well-meaning, but misguided attempts to protect the boys they really love.
Kou Sawara leaves home to avoid his older stepbrother, Naruki, whom he madly loves. Kou wants to prevent himself from acting on his love for the sweet and meek Naruki. Much to Kou's chagrin, Naruki follows him to Seiran, and Kou soon finds himself fighting off all the other male students who want innocent Naruki for themselves.
Kou's roommate, Yuuma Yoshino, an amateur hypnotist, suggest hypnosis as a way to turn Naruki into someone who can defend himself, but disaster strikes. As a result of being hypnotized, Naruki develops a split personality – "'seme' Naruki." Any time meek Naruki is aroused, out comes the aggressive playboy, seme-Naruki, and he'll "top" any student, but his favorite top-to-be is Kou. Kou, however, doesn't want to be a bottom, and he wonders if this wasn't all part of Yoshino's master plan.
Meanwhile, Satoru Shinzaki is known as "the homo-making machine of Seiran High," because he constantly woos the young men of Seiran and then, discards each after a one-night stand. Obviously, Satoru doesn't love these guys. He's really smitten with his pal, Riku, who only seems to want to mother him, constantly lecturing Satoru on how much sleep he should get, what facial products to use, about getting to work on time, etc. But events lead Satoru to wonder if there is more to Riku's mothering habits than just friendly concern.
THE LOWDOWN: To call Double Trouble a mere comic sex romp would be an understatement. It's a comedy about the pure, naked lust of young men, who think nothing of verbally expressing their desire to firmly plant their erections in the people for whom they are yearning. That's the simplest way to describe the raunchy comedy that is Double Trouble. There isn't necessarily wide-open, explicit sex depicted in the four stories that make up this graphic novella, although there are scenes, at the very least, that the MPAA would rate "R" (if this were a film). Double Trouble just has fun with the idea that men always have "sex on the brain."
Double Trouble does have some dry spots, and the story is occasionally repetitive. For the most part, though, it's fun and randy. If incest, manipulation, and love triangles can be spun into a quality romantic drama, Takashi Kanzaki has already proved she can do it.
POSSIBLE AUDIENCE: Readers who enjoy love triangles or lusty romances in which characters are oh-so-physical with each other will enjoy Double Trouble.
A-
www.digitalmanga.com
www.emanga.com
Shop for Yaoi Delights.
Last Updated: June 23, 2021 - 00:45