Excel Saga: Volume 22
By Leroy Douresseaux
April 12, 2011 - 09:33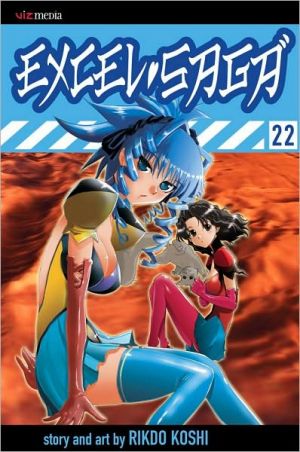 Excel Saga Volume 22 cover image is courtesy of barnesandnoble.com.
Rated "T+" for "Older Teen"
In the city of Fukuoba, there is an apartment building. In this complex, two groups of people lead secret lives. One group, Across, thinks it's trying to take over the city. The other group, the Department of City Security, thinks it's trying to defend Fukuoba. Sound like an anime, right? It's the manga, Excel Saga.
As Excel Saga, Vol. 22 begins, Teriha Shiouji AKA Excel invades the super-secret headquarters of the Department of City Security, but only by accident. When interrogated by Misaki Matsuya, Excel won't talk, but does she know anything worth telling? Next, Matsuya finds herself in the incompetent clutches of Across.
THE LOWDOWN: Seriously, it was an ordeal to figure out what was going on here in this series, especially since Vol. 22 was my first time reading Excel Saga. I found this action, parody manga to be entertaining and fun to read, when I could figure out what was going on, which was a little more than half the time. I actually find its concept – that the entire conflict is a sham – intriguing. Are the characters caught in a cosplay drama? The characters are interesting and the story has the comic tone of Hayate the Combat Butler. Still, I need to read another volume before I can honestly give Excel Saga a grade.
POSSIBLE AUDIENCE: Fans of manga that parody manga and anime may like Excel Saga.
Last Updated: August 31, 2023 - 08:12