Dr. Slump: Volume 16
By Leroy Douresseaux
September 9, 2008 - 14:36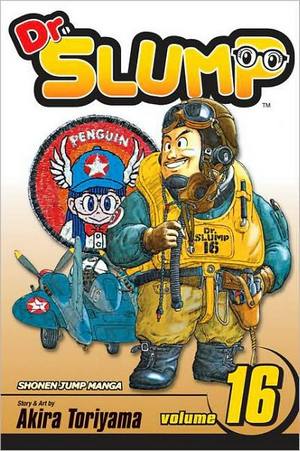 Thanks to barnesandnoble.com for the image.
Rated "T" for "Teen"
The debut manga from Akira Toriyama, the creator of Dragon Ball and Dragon Ball Z, was Dr. Slump. This shounen manga (boys' comics) follows the adventures of Arale, a cute girl-robot, and her creator, a goofy inventor named Senbei Norimaki. Arale turns out to be a handful – wide-eyed and so sweetly naïve – and seemingly as strong as Superman. Her admirer is Obotchaman, a boy-robot built by Senbei's rival, the villainous Dr. Mashirito.
In Dr. Slump, Vol. 16, the manga creator himself, Akira Toriyama (and his assistant), enters his comic, interacting with characters and getting into the action. Several situations ensue. Dr. Senbei becomes a fly, and so does Arale. Death comes for Dr. Senbei in the form of a buxom female vampire, who is substituting for the Grim Reaper. Dr. Mashirito also plots to ruin Christmas. Then, the denizens of Penguin Village try to discover "Who's the Strongest in the World?"
THE LOWDOWN: With his idiosyncratic, humorous drawing style (which he alters to fit the tone of a particular series), manga-ka Akira Toriyama has captured the imagination of readers with his unique manga for almost three decades. Dr. Slump, his debut series, epitomizes everything that is good about Toriyama and his inimitable comics. At first glance, Dr. Slump might seem like a silly kodomo manga (children's comic). However, this manga is like the Looney Tunes cartoon shorts by such directors as Bob Clampett, Friz Freleng, and Robert McKimson, because it has the silliness of sight gags to entertain young readers, but is also sly and subversive enough to attract older readers.
POSSIBLE AUDIENCE: Young readers of the magazine Shonen Jump will like Dr. Slump, as well young readers who may be attracted to humorous comics.
A-
Last Updated: August 31, 2023 - 08:12