Dragon Ball Full Color Freeza Arc: Volume 3
By Leroy Douresseaux
Sep 30, 2016 - 19:46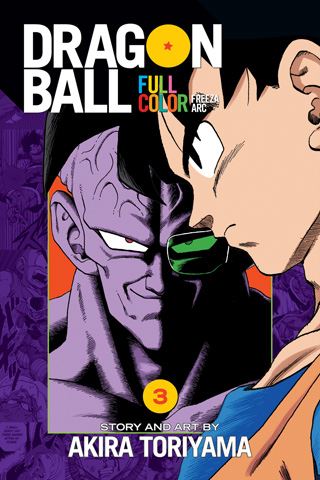 Dragon Ball Full Color Freeza Arc Volume 3 cover image
Rated "A" for "All Ages"
Dragon Ball
was a long-running Japanese manga series written and illustrated by
Akira Toriyama
. It was originally serialized in
Weekly Shonen Jump
from 1984 to 1995 and was comprised of 519 individual chapters. The hero of Dragon Ball was
Son Goku
, and the series began with the story of his childhood.
VIZ Media is Dragon Ball's North American publisher, and it has been publishing the series in various formats for some time. VIZ published the first 16 graphic novels in the series as Dragon Ball. With the seventeenth volume, VIZ renamed the series
Dragon Ball Z
, beginning with a new Vol. 1. VIZ Media's latest Dragon Ball publishing project reprints the Dragon Ball Z chapters as
Dragon Ball Full Color
.
The
Dragon Ball Full Color
series began by collecting the "Saiyan Arc." The second series collects the "Freeza Arc."
Dragon Ball Full Color Freeza Arc

, Vol. 3
contains Chapters 35 to 51 of the Freeza story line.
Vol. 3 opens on the planet
Name
. Son Goku takes on
Ginyu
and his
Ginyu Special Forces
, and Ginyu discovers that Son is way more powerful than he imagined. Meanwhile, Son's frenemy,
Vegeta
, continues his quest to find the current incarnation of the seven
Dragon Balls
so that he can gain the power of immortality.
However,
Freeza
, the warrior who destroyed the world of
Saiyan
, also searches for the Dragon Balls. Whoever finds them can summon the mighty
Dragon Lord
, who can grant any three wishes, but what will they wish for?
THE LOWDOWN:
I am an occasional reader of the Dragon Ball manga, but I have had the chance to read several manga by series creator, Akira Toriyama, over the last decade. My VIZ Media rep sometimes sends me copies of
Dragon Ball Full Color
.
Dragon Ball Full Color Freeza Arc Volume 3
is pretty much like just about any other volume of a Dragon Ball graphic novel. When it comes to Dragon Ball, more of the same is a good thing.. Dragon Ball is a full-on battle manga, full of imaginative characters and inventively staged battles. What makes
Dragon Ball Full Color
such an enjoyable read is something simple – the full-color.
Dragon Ball Z is an explosive narrative, and color makes the art and storytelling practically pop off the page. I actually like that manga is generally published in black and white, but Dragon Ball is one of those manga that genuinely takes on a new life in color, which makes it a fun read for young and older readers.
POSSIBLE AUDIENCE:
Readers looking for classic "all ages" comics that can be read by young and old will want
Dragon Ball Full Color Freeza Arc
.
A-
Rating: A- /10
Support this writer on Patreon
Last Updated: Jun 26, 2018 - 9:28