Dragon Ball Full Color Saiyan Arc Volume 1 Advanced manga review
By Leroy Douresseaux
February 3, 2014 - 17:02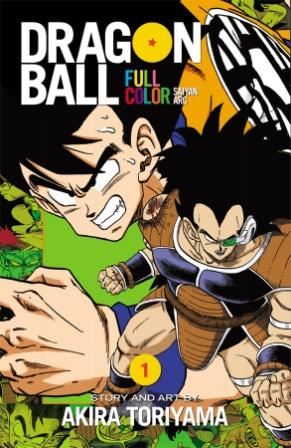 Dragon Ball Full Color Saiyan Arc Volume 1 cover image
Rated "A" for "All Ages"
Dragon Ball was a long-running Japanese manga series written and illustrated by Akira Toriyama. It was originally serialized in Weekly Shonen Jump from 1984 to 1995 and was comprised of 519 individual chapters. The hero of Dragon Ball was Son Goku, and the series began with the story of his childhood.
VIZ Media is Dragon Ball's North American publisher, and it has been publishing the series is various formats for some time. VIZ Media's latest Dragon Ball publishing project is Dragon Ball Full Color Saiyan Arc.
Basically the "Saiyan arc" begins with Chapter 195 of the original Dragon Ball. If I have figured this out correctly, VIZ Media published 42 volumes (graphic novels) of Dragon Ball. Beginning with Vol. 17, VIZ Media changed the title to Dragon Ball Z. Chapter 195 opens Dragon Ball Z Volume 17.
Dragon Ball Full Color Saiyan Arc, Vol. 1 opens with the arrival of an alien warrior, named Raditz, on Earth. He is a Saiyan, a warrior race that exterminates native inhabitants of planets. Raditz claims that Son Goku is not only a Saiyan warrior, but is also his brother.
Raditz first battles Goku's nemesis, Piccolo, and then, Goku. The alien is more than a match for Piccolo and Goku, even after the two enemies unite. There is a surprising result of the battle between Raditz and the Goku-Piccolo team. Soon, both Goku and his four-year-old son, Son Gohan, are training on two different worlds, as they prepare for the arrival of more of Goku's Saiyan brothers.
THE LOWDOWN: I am a new reader of Dragon Ball manga, but I have admired other Akira Toriyama manga for several years now – thanks to the Toriyama manga that VIZ Media has sent me. VIZ gave me a copy of Dragon Ball Full Color Saiyan Arc Volume 1 for review a few weeks ago.
I must admit that I prefer seeing Toriyama's work in black and white, especially Dragon Ball. However, the more I read this first volume of Dragon Ball Full Color Saiyan Arc, the more I liked it. As I've said before, Toriyama blends the best of Carl Barks, Jack Kirby, and Peyo into one super-cartoonist. Dragon Ball Full Color Saiyan Arc Volume 1 is like one of Jack Kirby's classic superhero comic books without being a superhero comic book.
It is comedy on a big scale, and, thanks to the battles, it is an unabashed fight comic. The color simply heightens the fantastic nature of the story. The format of Dragon Ball Full Color Saiyan Arc Volume 1 makes it look like a kind of archival book for serious manga fans and collectors. However, I think it can also serve as a big-old picture book for young readers.
POSSIBLE AUDIENCE: Readers looking for classic "all ages" comics that can be read by young and old will want Dragon Ball Full Color Saiyan Arc.
Rating: A+ /10
Last Updated: December 31, 2019 - 20:28