Comics / Manga / Yaoi Manga
Mio Tennohji's Don't Rush Love (Yaoi)
By Leroy Douresseaux
Jan 24, 2009 - 14:54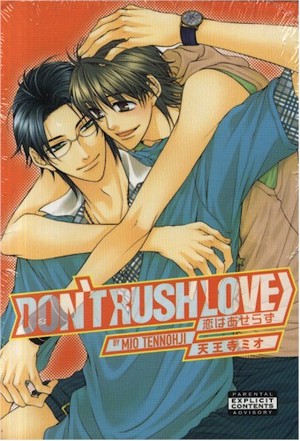 Don't Rush Love cover is courtesy of Anime Castle Books.
Rated: "18+ Mature Content"
Akito Morino is the new arrival at an all-boys university prep school, but as soon as he sees Souichirou Kusama, the star volleyball player, studies become the last thing on his mind. Fate has Morino rooming with Kusama, an over-achieving student, but this star pupil/jock has a habit of sneaking out at night. Kusama barely returns in time for morning roll call, and the mystery of Kusama's late-night escapades occupy Morino's mind.
Kusama becomes Morino's obsession, and Morino learns that Kusama also has an obsession of his own – a teacher named Kanzaki. When Kusama discovers Morino's curiosity, he makes amorous moves on his younger roommate, and soon a kiss turns into more. Morino convinces himself that he's more than willing to let Kusama use his body until he forgets Kanzaki and makes him number one.
THE LOWDOWN: Mio Tennohji carries over a few characters from her yaoi manga, Meeting You, into Don't Rush Love, a graphic novel built upon two storylines. Its theme is that meaningless sex can happen in the spur of the moment, when all one thinks of is sating one's lust. A real relationship, one heavy with romantic love, takes time to build and the construction is sometimes fraught with jealousy, misunderstandings, and hurt feelings. That makes Don't Rush Love a good read, although sometimes Tennohji lays this on a bit too thick. It's as if she's just a little bit desperate about selling this romance (as well as one between Souichirou's twin brother, Riichi, and a relative).
One thing I definitely love about Tennohji's yaoi manga is her unique cartooning of the human figure, especially faces. There's an amateurish quality to the awkward way her eyes and ears don't line up; ears are also too big and necks too long. However, she draws her uke/bottom characters in a way that emphasizes their boyish innocence without making them look girlish, which connects the readers to these naïve male characters, which are truly the center of her love stories. It's a perfect counter to her seme/top male characters that are usually tall, athletic types with a commanding or dominating presence.
POSSIBLE AUDIENCE: Readers that enjoy 801 Media titles, with their particularly explicit sex scenes, will enjoy Don't Rush Love.
B+
www.digitalmanga.com
Shop for Yaoi Delights.
Last Updated: Jun 26, 2018 - 9:28