The Demon Prince of Momochi House: Volume 8 manga review
By Leroy Douresseaux
April 4, 2017 - 20:40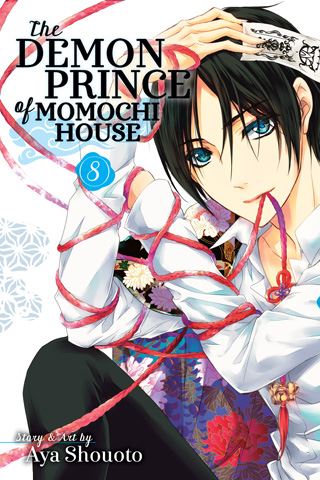 The Demon Prince of Momochi House Volume 8 cover image
Rated "T" for "Teen"
When she reaches her 16th birthday,
Himari Momochi
learns that she has inherited an old house located deep in the woods. She has never seen this domicile, which is called the
Momochi House
, and does not know that it already has three inhabitants. One of them, 17-year-old
Aoi Nanamori
, is the "
Nue
," the "
Demon Prince
" of Momochi House.
The Demon Prince of Momochi House

, Vol. 8
(Chapters 28 to 31) opens with Himari struggling with the fact that Aoi has turned into the Nue and still hasn't returned to his human form. The reason seems to be that Aoi has lost his human memories and perhaps getting them back will allow the Nue to become Aoi, again... that's if the Nue wants to be Aoi again. Himari enters the spiritual realm to find Aoi's memories, but what she discovers is quite troubling.
[This volume includes the bonus stories, "Momochi House's Next Slam!" and "Momochi Private Academy."]
THE LOWDOWN:
I think of
The Demon Prince of Momochi House
manga as being one of those manga and fantasy comic books that are filled with a genuine sense of the supernatural. Every page is infused with a magic.
The Demon Prince of Momochi House Volume 8
is a haunting ayakashi story filled with curses and eerie spirits. Still, this is a beautiful narrative. Creator Aya Shouoto is doing some of her best storytelling in this origin of co-lead Aoi Nanamori, and she seems to be getting better with each chapter – if that is possible at this point. I heartily recommend
The Demon Prince of Momochi House
.
I READS YOU RECOMMENDS:
Fans of high school-age supernatural romance and of yokai fiction will want to visit the "Shojo Beat" title,
The Demon Prince of Momochi House
.
A+
Rating: A+ /10
Last Updated: August 31, 2023 - 08:12