Comics / Comic Reviews / More Comics
Richard Sala's Delphine #4
By Leroy Douresseaux
November 27, 2009 - 16:30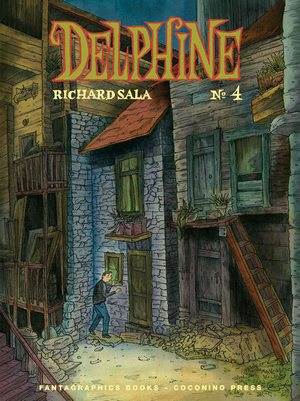 Delphine #4 cover image
Seattle, Washington's Fantagraphics Books and Italy's Coconino Press formed a joint venture to publish a line of comic books called Ignatz. Ignatz comic books are published in an oversized, 2-color format and printed on heavy paper with cardstock covers. Ignatz titles are part book, part magazine, part comic book (pamphlet), and part serialized graphic novel, and like books, they have dust jackets. While the oversized publishing format makes Ignatz titles look like magazines, they are all comic book.
Delphine #4 by Richard Sala (Evil Eye, Cat Burglar Black) is the 32nd entry in the Ignatz line. A retelling of the fairy tale Snow White, Delphine is told from the perspective of the "prince," who is a traveler and student searching for a fellow student, a girl named Delphine Penny, with whom he has an infatuation. His infatuation with her takes him to Delphine's last known address, a rustic village surrounded by an ominous black forest.
Delphine #4 finds the traveler in the clutches of Delphine's wicked stepmother, a religious fanatic and salacious crone with designs on the traveler. As he staggers his way through the village, the traveler encounters a macabre assembly of villagers. His anxious mind recalls his relationship with the troubled Delphine, a relationship filled with frank conversations. So how will the traveler's persistence pay off: a reunion with Delphine or even worse trouble?
THE LOWDOWN: The first two issues of Delphine, Richard Sala's reinvention of Snow White, were sparkling macabre gems. While the third could also be described as such, it was in the third chapter that the story took a turn into darker territory. It was then that the narrative point of view began to ask questions about the traveler's relationship with Delphine. The readers only see Delphine as she is related to them by the traveler. He is obsessed with Delphine, and that makes everything about his narration suspect, which keeps the readers unbalanced. The bewildering events of this fourth volume race towards a stunning conclusion, one that is quietly horrifying, yet terrifying in its sadness.
POSSIBLE AUDIENCE: The fourth book is a must for those who have read earlier issues, but it will make the uninitiated really want Delphine.
A
Last Updated: August 31, 2023 - 08:12