Comics / Comic Reviews / More Comics
Richard Sala's Delphine #3
By Leroy Douresseaux
November 20, 2009 - 09:11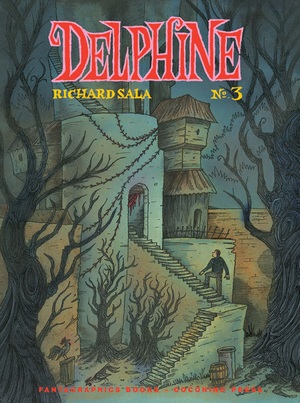 Delphine #3 cover image
Ignatz is a line of comic books co-published by Fantagraphics Books and Italy's Coconino Press. Each individual Ignatz comic book is printed on heavy paper with cardstock covers in an oversized two-color format. Ignatz titles are part book, part magazine, part comic book (pamphlet), and part serialized graphic novel, and like a book, each edition in the line has a dust jacket. While the oversized publishing format makes Ignatz titles look like magazines, they are all comic book.
Delphine #3 by Richard Sala (Evil Eye, Cat Burglar Black) is the 29th entry in the Ignatz line. Delphine is Sala's retelling of the fairy tale Snow White from the perspective of the "prince." Here, the prince is a mysterious traveler and a student searching for a fellow student, a girl named Delphine Penny, with whom he has an infatuation. He travels to Delphine's last known address, a rustic village surrounded by an ominous black forest.
Delphine #3 finds the traveler held prisoner in the gloomy backroom of a woodsman's lonely house deep in the forest. Hallucinating and hunted by bizarre people and animals, even if the traveler escapes, a haunted forest awaits him.
THE LOWDOWN: Richard Sala's reinvention of Snow White is a sparkling macabre gem. The 2-color art glows in handsome sepia that is pitch perfect for this delightfully demented tale of a strange land. Sala populates Delphine with cast of horror carnival rejects that is diverse enough to both excite and confound the imagination. This issue's creepy locales: dark tunnels, a creepy house, and a gloomy castle are the true stars of this chapter. They make this scary tale an absolute winner.
POSSIBLE AUDIENCE: Fans of Richard Sala already want this, but fans of Edward Gorey and Tim Burton will also want Delphine.
A
Last Updated: September 6, 2021 - 08:15