Curse of Chucky DVD/Blu-ray review
By Leroy Douresseaux
October 8, 2013 - 10:40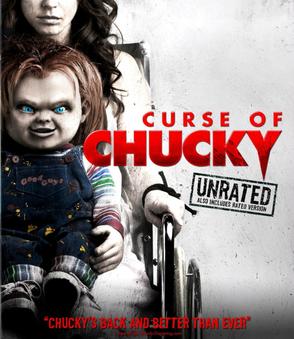 Curse of Chucky Blu-ray/DVD poster
He's back! Chucky, the pint-sized doll possessed by the spirit of a notorious serial killer, returns in a new film, Curse of Chucky, from the filmmakers who brought you the previous Chucky films. The newest installment of the Child's Play franchise arrives exclusively to Blu-Ray™ and DVD on Tuesday, October 8, 2013, from Universal 1440 Entertainment, a production entity of Universal Studios Home Entertainment.
Universal Studios Home Entertainment provided the Comic Book Bin with a copy of Curse of Chucky, a horror film from writer-director, Don Mancini. It is the sixth movie in the Child's Play film franchise, and the first released since 2004's Seed of Chucky. This new film follows a young woman who suspects that a mysterious talking, red-haired doll may be the key to recent bloodshed in her home.
The Blu-Ray™ and DVD comes with both an "Unrated" version of Curse of Chucky and a slightly shorter version rated "R" by the MPAA. For you, dear readers, the Bin watched the "Unrated" version for review. The film does not end with the credits; keep watching past the credits for Curse of Chucky's shocking epilogue
As Curse of Chucky begins, Nica (Fiona Dourif) signs for a mysterious package sent to her mother, Sarah Pierce (Chantal Quesnelle). After her mother's gruesome suicide, Nica is forced to deal with her estranged sister, Barb (Danielle Bisutti), when she visits with her husband, Ian (Brennan Elliott), nanny, Jill (Maitland McConnell), and young daughter, Alice (Summer Howell). There is clearly tension among the adults, so Alice comforts herself with a grinning, red-haired talking doll named Chucky (voice of Brad Dourif). After a series of strange occurrences, Nica begins to suspect that Chucky has something to do with it, especially after the killing begins...
Unlike previous "Chucky" movies, Bride of Chucky (1998) and the previously-mentioned Seed of Chucky, Curse of Chucky is not comic horror. There is some humor, but this is essentially a slasher film. It is quite a ways into Curse of Chucky before the filmmakers let Chucky go wild, so this movie is one of those scary movies that actually gets better as it gets closer to the end.
Like many slasher films, Curse of Chucky has elements of a mystery film, with at least one character trying to figure out, "What is going on?" Of course, we know, as the audience, that Chucky is the instigator/murderer, but there is some fun in watching the character-victims be clueless on their way to gruesome deaths. Horror fiction sometimes offers characters that are so self-absorbed or are so focused on the melodramas in their social circles that they do not see the killer in their midst. In this movie, the characters illicit sympathy because their problems, conflicts, and obstacles make sense – even when their difficulties are funny.
As usual, Brad Dourif does stellar work as Chucky's voice, although, this time around, he sounds a little like Danny DeVito. Having his daughter, actress Fiona Dourif, in this film is another good choice, especially as Curse of Chucky's story has surprising ties to the original film and some of the sequels. Fiona is intense, and she has just enough of a crazy vibe to give the film the edgy heroine it needs in order for the story to work.
Fans of the Child's Play movies will like Curse of Chucky, and some, like me, will like it a lot. As a direct-to-DVD movie, Curse of Chucky could have cursed the franchise. Instead, this entertaining horror film reminds fans of why having Chucky back is a good and necessary thing.
Bonus Features Exclusive to the Blu-rayTM:
• Living Doll: Bringing Chucky to Life: Featuring the award-winning work of animatronics company Alterian, this featurette shows the pain-staking detail involved with bringing Chucky to life and the army of people behind the process.
• Voodoo Doll: The Chucky Legacy: More than six films and a quarter of a century, Chucky, the possessed Good Guys doll, has been the playmate we love to hate. This featurette looks at why we're still frightened by the red haired terror and recalls some favorite moments from the previous films.
• Storyboard Comparisons
Blu-rayTM and DVD Bonus Features:
• Deleted Scenes
• Gag Reel
• Playing with Dolls: The Making of Curse of Chucky: From scripting, to casting to shooting, this featurette proves that playing with dolls is definitely not child's play! Follow the cast and crew of Curse of Chucky as they bring the newest and scariest chapter in the series to the screen.
• Feature Commentary with Director Don Mancini, Puppeteer Tony Gardner and Star Fiona Dourif
The Blu-Ray™ Combo Pack also includes UltraViolet™ digital copy.
CURSE OF CHUCKY trailer: http://youtu.be/YEBU6m7toSg
First clip from Curse of Chucky featuring Alice (Summer Howell) and Chucky wanting to know what's for dinner: http://www.youtube.com/watch?v=4RnV2Pszu3s
Rating: 8 /10
Last Updated: August 31, 2023 - 08:12