Comics / Comic Reviews / DC Comics
Constantine: The Hellblazer #1 DCYou review

By Leroy Douresseaux
July 8, 2015 - 16:41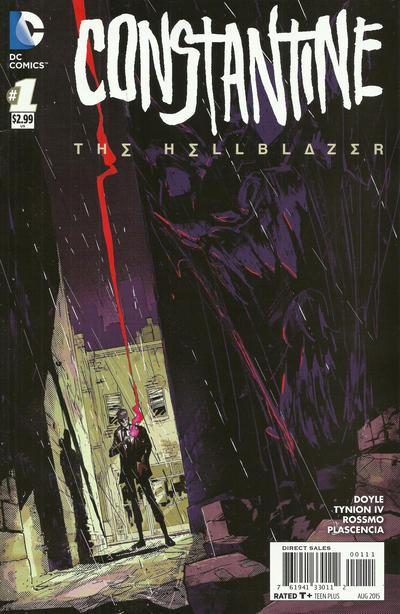 Constantine: The Hellblazer #1 cover image
Rated "T+" for "Older Teen"
A version of this review was originally posted on
Patreon
.
The original
John Constantine
comic book series,
Hellblazer
, ran for 300 issues. Then, DC Comics folded Constantine into the mainstream DC Universe with The New 52, and started a new series, simply entitled
Constantine
. Our favorite comic book occult detective, magus, and troubleshooter was not the same.
DC's latest publishing initiative/event is "DCYou," which is being launched with 25 new #1 issues. One of them is
Constantine: The Hellblazer
, which is written by
Ming Doyle and James Tynion IV
, drawn by
Riley Rossmo
, colored by
Ivan Plascensia
, and lettered by
Tom Napolitano
. I must say that, at least with this first issue, John seems to be getting back to his old self.
Constantine: The Hellblazer

#1
("Going Down") opens with John trying to clean up after his latest bloody mess. Another thing that is the same-old-same-old is the ghost of
Gary Lester
, one of John's many friends who have paid the ultimate cost for being a friend of Constantine's.
It's reunion central when yet another... acquaintance reappears; she is
Blythe
, an ex-patriot from Hell who has also been an occasional shag-buddy of John's. Blythe has an ownership interest in "
Inferno
," a club slash lounge slash art-house theater of some sort. She says that the place has an imp infestation that only John can solve, and, no, it won't be that easy.
THE LOWDOWN:
I like
Constantine: The Hellblazer
#1 and have better feelings about it than I did about Constantine #1. Of course, neither one thrilled me as much as Hellblazer #1 did almost three decades ago. Still, there is something about this new series – something upon which I cannot put my finger – that makes it... alluring. For one thing, Riley Rossmo's scratchy compositions strikes an odd tone, making Constantine: The Hellblazer #1 at least visually different from all other DC Comics.
Ming Doyle and James Tynion IV strike the right tone by recalling John's troubled past while offering to take John and their readers to new and imaginative places. I gave up on Constantine after about four issues. I plan on giving Constantine: The Hellblazer at least one entire story arc.
POSSIBLE AUDIENCE:
Fans of John Constantine will want to give
Constantine: The Hellblazer
a try.
Rating: 7.5 /10
Last Updated: January 24, 2022 - 11:00