Comics / Comic Reviews / More Comics
Simpsons Comics Game On! comics review

By Leroy Douresseaux
February 4, 2018 - 12:20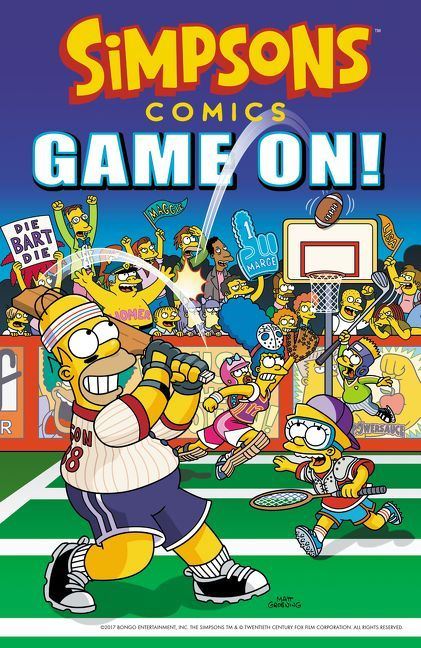 Simpsons Comics Game On! cover image
"The Simpsons" is an American animated television sitcom, produced first run for the Fox Broadcasting Company. Created by cartoonist
Matt Groening
, "The Simpsons" began in 1987 as a series of animated shorts that were eventually developed into a half-hour animated TV series. "The Simpson" debuted on Fox in December of the 1989-90 television season and continues today with new episodes, with Fox having renewed the series through 2019.
"The Simpsons" present a satirical depiction of a working class family which consists of
Homer Simpson
(the father),
Marge Simpson
(the mother),
Bart
(the oldest child and only son),
Lisa
(the precocious and brilliant elder daughter), and
Maggie
(a baby girl). "The Simpsons" also parodies American culture, pop culture, society, politics, media, etc. via the denizens of The Simpsons home town,
Springfield
.
In 1993, Matt Groening, Bill Morrison, and Steve and Cindy Vance founded Bongo Comics Group (or simply Bongo Comics). Over the course of a quarter-century, Bongo Comics has published numerous comic book series and single-issue publications based on "The Simpsons." The comic books have starred and featured all the characters that are part of this franchise, from the Simpsons clan to the various supporting characters, including Ralph Wiggum and his father, Chief Wiggum; Ned Flanders; Krusty the Clown, Sideshow Bob, and Mr. Burns and Smithers, to name a few.
Harper Design, an imprint of HarperCollins, has been publishing a line of full-color, original trade paperbacks that reprint select stories from Bongo Comics' Simpsons comic books. The new trade paperback original is
Simpsons Comics Game On!
, which reprints Simpsons Comics, issues #121 to 125. Simpsons Comics is Bongo Comics' long-running flagship Simpsons comic book series.
Simpsons Comics Game On!
opens with "The Town That Time Forgot." Lazy Homer Simpson seems incapable of being on time for anything, so rather than learn to be punctual, Homer has a better idea. Why not let people set their own time... with disastrous results. And Sideshow Bob is back... or maybe not in"Bobbing for Vengeance."
In "'Till Ned Do Us Part," Marge Simpson invites a lonely Ned Flanders into the Simpsons home for a stay while Ned's son, Rod and Todd, are away at "Old Testament Survival Camp." In "two shakes of a lamb's tail," the Simpsons find themselves facing an onslaught of hackneyed expressions, cliché sayings, and a guest who does not want to leave because he is "casting pearls before swine."
Finally, return to yesteryear with "Springfield's Typical Teen-Ager," Homie in "One Plus Two Equals Zero." Springfield High School student Homie Simpson has two tickets to not-paradise and dates with two girls, each one to a different campus event that will take place at the same time. Can Homie pull off the ultimate high school double date?!
THE LOWDOWN:
Harper Design has been sending me review copies of its recent Simpsons trade paperback originals, and while I have enjoyed them, I am shocked by how much more I like Simpsons Comics Game On! For me, this comic book captures the essence of "The Simpsons'" rowdy first decade on television: the razor sharp satire, blunt spoofs, dead-on parodies, and delightful pop culture references. Speaking of references, "One Plus Two Equals Zero" is a winning Simpsons spin on Archie Comics' classic Archie-Betty-Veronica love triangle, with a few guest cameos sprinkled throughout the story.
"'Til Ned Do Us Part" is one of the best humorous comic book stories that I have ever read, and it is also a surprisingly effective little morality tale. Plus, according to an editor's note, the story contains over 150 clichés – in their original form or mangled – and there are several mixed metaphors. The delightful and dream-like "Maggie's Little Helper" recalls the vintage newspaper comic, Little Nemo. "Bake Love, Not War" perfectly captures the dynamic between Marge Simpson and her well-meaning, but dumb and patience-testing husband, Homer.
You don't have to be a fan of "The Simpsons" to like Simpsons Comics Game On!, but it helps. This volume has so many stories that are inventive and well-executed in their storytelling that fans of humor comics can find at least one story to like.
I READS YOU RECOMMENDS:
Fans of Bongo Comics will want Simpsons Comics Game On!
A
9 out of 10
Rating: 9 /10
Last Updated: August 31, 2023 - 08:12