Comics / Comic Reviews / More Comics
Ectyron Against Lagaxtu comics review
By Leroy Douresseaux
August 17, 2017 - 13:14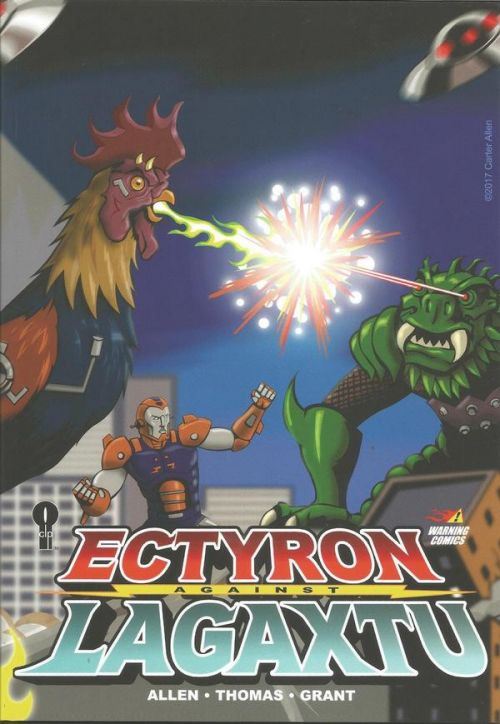 Ectyron Against Lagaxtu cover image
Ectyron Against Lagaxtu
is a new comic book published by Candle Light Press (CLP). It is written by CLP stalwarts
Carter Allen
and
John Ira Thomas
and drawn by Allen. CLP regular
Will Grant
assists Allen and Thomas and also provides a pin-up illustration.
Ectyron Against Lagaxtu introduces the super-cyborg warrior hero,
AtoM.I.K.E.
He is always on the lookout for the kind of giant monster that hides beneath the Earth before finally surfacing to wreak havoc.
Lagaxtu
is one of those monsters, a "kaiju," a beast like Japan's Godzilla. AtoM.I.K.E. (a "tokusatsu" like character) can kick some monster butt, but he will need help from another behemoth beast, one who can sense evil. Here, comes
Ectyron
!
THE LOWDOWN:
Ectyron Against Lagaxtu is the kind of monster comic that writer, artist, cartoonist, designer, and graphic novelist, Carter Allen does so well. His Gozilla-sized creations, which includes monsters, beasts, machines, contraptions, and heroes, are pure comic book fun.
Where do monsters dwell? When Marvel Comics stopping publishing comic books like Where Monsters Dwell, the spirit of B.A.M.s (big-ass monsters), had to go somewhere, and occasionally that spirit shows up in American comic books, such as Allen's. The screwy artistry of the Jack Kirby-Dick Ayers art team that drew monster comics is well in evidence in Ectyron Against Lagaxtu.
I do think the software Allen used to produce the art in Ectyron Against Lagaxtu steals some of the energy that is usually in evidence in his hand-drawn monster goodies. Luckily, John Ira Thomas's dialogue and exposition (which reads as if it were written for a TV reporter witnessing this monster mash) gives the wackiness a jolt.
There are six monster pin-up illustrations in the back of this comic book. I think they can act as incentives to encourage comic book readers to buy Ectyron Against Lagaxtu when they visit the CLP table at comic book conventions around the country. The promise of more CLP monster mash comics might also spur a purchase.
I READS YOU RECOMMENDS:
Readers hungry for kaiju and tokusatsu comic books will want
Ectyron Against Lagaxtu
.
A
8 out of 10
http://candlelightpress.tumblr.com/
www.warningcomics.com
Rating: 8 /10
Last Updated: January 24, 2022 - 11:00