Comics / Comic Reviews / More Comics
The Story of My Tits comics review

By Leroy Douresseaux
February 12, 2016 - 23:40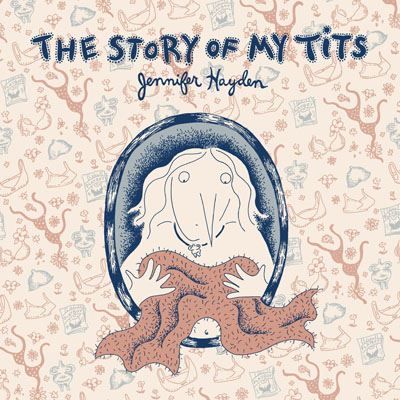 The Story of My Tits cover image
Mature readers (16+)
The Story of My Tits
is a black and white, original graphic novel from
Jennifer Hayden
, an author, children's book illustrator, and comix creator. Published in September 2015 by Top Shelf Productions,
The Story of My Tits
chronicles Hayden's life from her years as a girl with a flat chest to her battle with breast cancer in her forties.
Born in the early 1960s, Jennifer is an ordinary girl, but over time, she comes to discover that unlike other ordinary girls, her breasts are taking their own sweet time to develop. Eventually, Jennifer's tits do appear as she discovers boys, sex, and break-ups with boys.
However, the innocence of youth quickly gives way to the chaos of adulthood. There is college, a long-term relationship with
Jim
, the young man who later becomes her husband. There is her mother's brush with breast cancer that eventually leads to a mastectomy, and while her mother suffers a health crisis, her father has a mistress. Jennifer experiences the ups-and-downs of two families after she marries Jim, but the biggest downer is her own diagnosis of breast cancer at the age of 43. It is then that Jennifer has to chart her own difficult course of surgery, recovery, and renewal.
THE LOWDOWN:
Any description of
The Story of My Tits
cannot come close to truly describing this monster of a comic book. I understand why it would be sold as a graphic novel about cancer, because breast cancer is a dark shadow that looms over this story. It is hard to find people who have not had a brush with cancer in their lives.
My paternal grandfather died of it. In 2014, a friend who was long misdiagnosed died of pancreatic cancer. I took my mother to a doctor's appointment a few years ago, not knowing that a biopsy was planned. When I was told that the doctor was concerned about the possibility of breast cancer, I finally understood what people mean when they say that they feel as if the walls are closing in on them. It was as if I were in a large room that instantly shrunk to closet-size around me.
The Story of My Tits
is a story about life, love, and loss. It is an epic biography about family and friends, about having jobs and having a career, about saying goodbye to cherished loved ones almost at the same time welcoming new life into the world. Because Jennifer tells us so much about her life, we buy into her story. And when we buy into the story, we buy the cancer, too. Jennifer's confusion about her health and her fear of death become a real thing with which we the readers must grapple.
The Story of My Tits
is triumphant and heartbreaking. It is glorious in its joy and candid in its sadness. Most of all, it is a fantastic read. I did not know that tits could be so alluring and attractive, and it would have nothing to do with sex. Seriously, Jennifer Hayden has offered a story for our times that is timeless in its breath and scope.
POSSIBLE AUDIENCE:
Anyone who has suffered loss and goes on to survive will want to read
The Story of My Tits
.
www.jenniferhayden.com
goddesscomix.blogspot.com
Rating: A+ /10
Last Updated: September 6, 2021 - 08:15