Tabitha Stevens Does Voice Over Work for Cortex Web Comics
By The Editor
August 7, 2010 - 20:32
DarkBrain, LLC announced this week they have partnered with adult film actress Tabitha Stevens to be the voice of their popular character Brenna in "Mirror, Mirror." With her addition, DarkBrain has re-published issues #1 and #2 which are both now available and include Tabitha's voice talents. Issue #3 is set to be released on August 15, 2010, as part of DarkBrain's online magazine Cortex #4. "Mirror, Mirror" will appear with two other comics in one purchase of only $4.99 with over 50 pages of art, voice and music.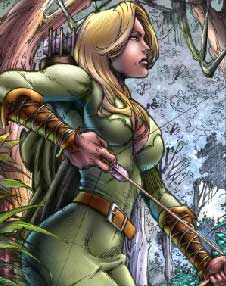 Quoting from Tabitha's bio on her website (http://www.tabithastevens.com), "Celebrity Tabitha Stevens is widely known as 'legendary" in the adult film industry. Tabitha is an AVN Hall-of- Famer and veteran of hundreds of adult movies as well as a mainstream "cross-over" star with countless movies, TV appearances and special event appearances. Also known as "the Craziest Sex Symbol on Earth," Tabitha Stevens was recently saluted by the "King of all Media," Howard Stern for her numerous contributions as Special Guest for the show. Tabitha has appeared on the Howard Stern show over 27 times including the E Channel (E Entertainment). Howard Stern has called Tabitha Stevens a "true superhero" on air and ultra-critic, Simon Cowell, gave Tabitha a 9.5 while on the show."
DarkBrain.com produces 13 original series of comics; each has graphic novel quality art and a great story - but also includes voice-over narration, original music, and user choices and preferences that change the story itself. In addition to Cortex, DarkBrain also features four regular ongoing comic stories with new pages every Friday. "Mirror, Mirror" is the story of Brenna, a torturous boss at work but with a secret life as a dominatrix. She also happens to be cursed with an unpleasant visitor in the mirror. "Mirror, Mirror" is a wild ride that will challenge the reader's senses and fortitude. Written by Wintress Odom and Michelle Friedrichs and penciled by Ryan Hawkins, "Mirror, Mirror" #1 debuted In Cortex #1, the online magazine's inaugural free issue - now available at http://www.darkbrain.com Artists at DarkBrain receive half of all sales as royalties as the studio is designed to promote and support artists.
Last Updated: May 19, 2020 - 12:25