Valiant Comics Changes Logo – Again
By Hervé St-Louis
April 27, 2012 - 09:33
Valiant Comics has always had a distinctive logo. Well, this week, Valiant Comics tweaked its logo again. But I think they did a good job. The original one was used from 1989 to 1992 on early Valiant Comics and some of the properties they made licensed comics for, such as Nintendo. The logo featured the now iconic compass and a thinly lettered VALIANT text mark. In 1992, just after the Unity crossover, the made the text mark bolder. When Valiant was purchased by Acclaim Games, they the logo was tweaked several times, but either the V text mark of the compass theme always remained.
When the new Valiant company announced it was in business again, it took the original compass logo mark and added some perspective to it. It wasn't much of a tweak but did add some dynamism to the logo. However, just before their books are due for a release next week, Valiant has announced a new logo designed by Rian Hughes.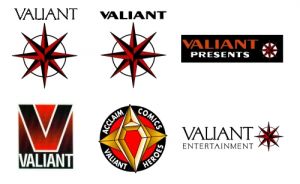 Valiant Comics Logo Through Time
Hugues said about the new Valiant logo "It is always a challenging and interesting project to design the visual identity of a publisher from the ground up in every detail -- logo, trade dress, title logos -- and to cohesively pull all these elements together so one strong visual identity emerges. Rebooting the Valiant line's design has been one such great project. The Valiant characters have a strong fanbase and heritage, and so the new logos are fresh and modern as befits a forward-looking publisher while still paying tribute to the originals, just as has been done with the characters themselves."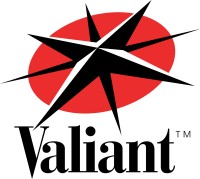 Previous Valiant Logo
The new logo integrates the name Valiant with the compass theme for the first time. I think it's a good mix and probably a nicer logo than the recent DC Comics revisit. One thing that I noticed is that unlike the previous logo used by the new Valiant, this one had a registered mark. Did Valiant just get its name trademarked, or is it just the new logo that received a logo mark protection? Something else I'd like Valiant to explain after 20 years is what exactly does the compass means, outside of its historical usage?
Last Updated: September 6, 2021 - 08:15