Comics / Manga / Yaoi Manga
Clan of the Nakagamis: The Devil Cometh
By Leroy Douresseaux
May 28, 2009 - 21:10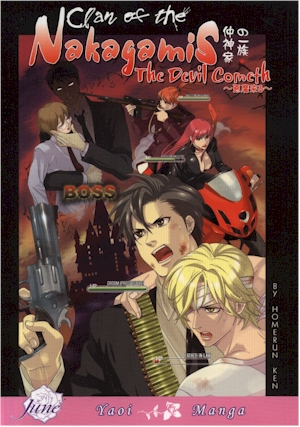 Clan of the Nakagamis: The Devil Cometh cover image is courtesy of Anime Castle Books.
Drama/Romance; Rated "YA" for "Young Adults 16+"
Haruka Iijima is dating his math teacher, Tokio Nakagami. An affair between a teacher and his student is difficult enough, but Tokio's powerful and wealthy family, the Nakagamis, an incredibly eccentric lot, make it even more difficult. The Nakagamis are also a family of extremely good-looking, but beauty-obsessed men, and they seem to have age-defying abilities. Tokio is 25, but looks like a 14-year-old boy!
In Clan of the Nakagamis: The Devil Cometh (Vol. 2), the pesky Nakagamis continue to meddle, as Haruka and Tokio attempt to make their relationship… more physical. That problem gets worse when Hibari Nakagami, Tokio's conniving cousin, makes a surprise visit. Tokio once has a serious crush on Hibari, who is the eldest son of the Nakagamis' mainly family branch. Not only does Hibari have schemes on the family business, the Nakagami Group, but he also has his eyes on Tokio, whom he once spurned. Now, Haruka and Tokio's brothers – the cross-dressing Kijinojyo and the girlish Takamaru – are determined to make sure Tokio and Hibari don't become a couple.
Later, a prank sends Hibari and Kijinojyo to Togama Island to retrieve a seriously ill Takamaru. What the Clan Nakagami finds is a mysterious pirate cove, buried treasure, ghosts, and maybe even love.
THE LOWDOWN: One could argue that creator Homerun Ken has a fetish for young male beauty. On the other hand, one could see his manga series, Clan of the Nakagamis for what it really is – a wonderland of bishounen boys, and only a few are androgynous. Some are obviously masculine (Haruka and Hibari), while some are clearly feminized (Takamaru). All of them are sexually active or actively seeking to be sexual.
Visually, the physical appearances of these young men are important to the story, because the narrative is often about looks; it seems necessary that even the graphics – the sequential art – be exceptionally beautiful. However, pretty faces and fine clothes ultimately serve the interests of what is essentially a romantic ensemble comedy; they players are pretty and engaging. Readers care about them, and the fact that all these characters are charming and interesting makes Clan of the Nakagamis a winner. It gets even better when more characters are added to the mix, and The Devil Cometh gives the series two new regulars in cousin Hibari (the devil in The Devil Cometh) and the long-suffering islander, Kiyoshi Imaizumi (from the second story).
Clan of the Nakagamis: The Devil Cometh is a clever package filled with two fun graphic novellas and Homerun Ken's beautifully drawn and superbly composed art. After having enjoyed it so much, it seems almost too good to be true.
POSSIBLE AUDIENCE: Readers looking for the sweet spot where bishounen manga and shounen-ai manga meet will find it in Clan of the Nakagamis.
A
www.digitalmanga.com
www.akadot.com
Shop for Yaoi Delights.
Last Updated: Jun 26, 2018 - 9:28