Comics / Comic Reviews / Marvel Comics
Clandestine #1
By Leroy Douresseaux
February 11, 2008 - 12:27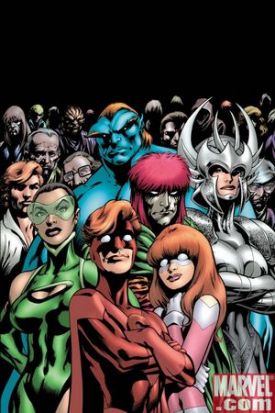 Cover without title and lettering
Clan Destine
was a comic book series created by
Alan Davis
, first appearing in Marvel Comics Presents #158. The concept received its own series, which was published for 12 issues starting in 1994 (although Davis did not produce issues 9-12). Davis did write and draw a two-issue follow-up X
-Men and the Clan Destine
, temporarily connecting the mythologies of the merry X-Men and his Destines.
The Clan Destine were the family of Adam Destine, a 12th century crusader who mated with a female Djinn (genie). The mating made Adam immortal, and this union produced super-powered offspring. The recent Clandestine #1 starts off a new five-issue mini-series featuring Davis' unusual superheroes and picks not longer after where we left the Destines a decade ago.
The youngest Destines, Rory and his sister Pandora, who masquerade as the superhero team of The Crimson Crusader and Imp, respectively, are toiling through the school. Rory chafes under the discipline of school, and Pandora simply acts as his consciences and the straight man… woman of this duo. Secretly inside, however, the siblings are struggling with what they really are. But what are they? Just what are the Destines, really?
Meanwhile, the adult Destines are also struggling. The turmoil of intra-family relationships – rivalries, jealousies, old grudges, etc. – are plentiful, and Adam still struggles with having to kill his son, Vincent. Meanwhile, secret enemies have activated a plot to destroy the Destines.
THE LOWDOWN: A highly-influential artist (Bryan Hitch has been doing a riff of his work for almost two decades) and fan favorite (Marvelman, Excalibur, JLA: The Nail), Alan Davis is also a skilled writer of superhero yarns. The first issue of Clandestine is rather dense, and Davis' script relies on the readers to have more than a passing familiarity with the characters and concept. Really, Clandestine #1 is a valentine to readers who never forgot the Destines, whose original comic book series was unfairly interrupted back in the mid-90's (possibly by Marvel editorial interference). Those unfamiliar with Clan Destine would serve themselves well by making the effort to learn about the series.
Davis' art, always so well inked by one of the great comic book inkers, the incomparable Mark Farmer, is drawn in his fluid style, rich in liquid negative spaces. That over a decade later, Davis could pick up where he left off and recapture the magic of Clandestine is not a miracle – because this is the wonderful Alan Davis.
POSSIBLE AUDIENCE: Fans of Davis and Clan Destine are the obvious targets, but people who want to see a truly special talent working his magic on something personal will enjoy this.
A-
Last Updated: January 24, 2022 - 11:00