Interview with Chris Staros
By LJ Douresseau
Nov 1, 2003 - 11:31

Welcome to the first installment of the new column Mr. Charlie Opens the Door. Here, comic book people submit to intense questioning and then get a chance to talk back. From time to time, this column will also take press releases from publishers and creators and let those people add a personal touch by answering a few more questions about the releases. If it's fortunate, sometimes this column will feature non-comics work and creators. So on with the show. . .

With critical acclaim for Craig Thompson's BLANKETS coming from comics luminaries like Neil Gaiman and Jules Feiffer, magazines such as TIME ENTERTAINMENT WEEKLY, NEW YORK TIMES BOOK REVIEW, and websites like Aintitcool.com and Artbomb.net, Blankets publisher TOP SHELF PRODUCTIONS (http://www.topshelfcomix.com) is making moves to assure that customers, both old and new, can easily purchase Top Shelf books online and find out what's new with the company.
Top Shelf has already published Thompson's earlier, acclaimed graphic novel, GOOD BYE CHUNKY RICE, and such works as Alan Moore and Eddie Campbell's FROM HELL, Alex Robinson's BOOK OFFICE POISON, and Ed Brubaker's LOWLIFE.
The week of October 6th, Top Shelf boss CHRIS STAROS sent out two press releases. The first informed the comics world that the company had revamped its website to make it easier for customers to shop online and secondly that the company would update the site on a more regular basis. According to the release, designer Nathan Beaty created a new look for the site and with the new look would also come more original comics and more new books for sale. This column approached Mr. Staros for a few other details.
LJ: I imagine that there were a number of reasons for the change of the site, but what were the most important reasons?
CHRIS: Our former web designer got too busy to work with us anymore, so when we contracted Nate Beaty, our new webmaster, we decided to start from scratch, and build a data-driven site, that I could update with ease, and also move the site into the modern day with a complete shopping cart system and secure credit card ordering.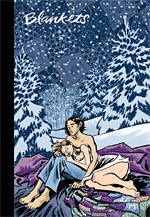 LJ: What do you hope that a revamped site will do for Top Shelf?
CHRIS: The Top Shelf website is designed to keep all interested parties informed as to what we're up to. It acts as an ever-evolving visual summary of our future releases as well as our current inventory. It's a place where fans and retailers alike can go to get an idea of what a book is, before they decide to actually give it a try. It's also a place where fans can get a hold of the full range of our publications, when they're not available locally.
LJ: How important is it to the future of your company that you maintain a presence on the web?
CHRIS: The web has become so vital for information and communication that I can't imagine not being on the web these days. Not only that, in the "small press," revenue has to come from every avenue possible to keep the doors open, so the website is just another vital link in the chain which already includes the direct market and book trade distributors, retailers, and conventions.
Mr. Staros also said that the website's new look had been up since mid-July, but that he wanted to wait a few months to see how the changes worked before formally announcing the revamp. To commemorate Top Shelf's new website, the company is also offering limited hardcover editions of select titles that will only be available by ordering directly from the website. These include hardcover versions of the hit Blankets (limited to 500 copies), THE BAREFOOT SERPENT by Scott Morse (300), and two Alan Moore tomes - VOICE OF FIRE (500) and THE MIRROR OF LOVE with Jose Villarrubia (500).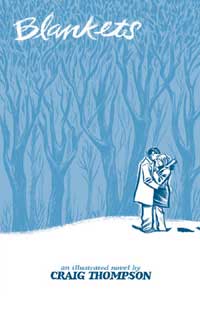 Each deluxe book costs $50. The Thompson and Morse books have already sold more than half their run, according to the company. The Moore books, scheduled to ship at the end of the year and the beginning of next year respectively, have been heavily reserved, so Mr. Staros is suggesting that other interested buyers immediately pre-order the titles.
The week was very busy for the publisher as it also announced its titles scheduled to ship in February 2004. These include BE A MAN by Jeffrey Brown and UPSIDE DOWN by Tobias Tak. February also sees JAMES KOCHALKA'S SKETCHBOOK DIARY - YEAR 4 and a second installment of the eponymous fantasy series JENNIFER DAYDREAMER: ANNA AND EVE.
Last Updated: Jun 26, 2018 - 9:28