Comics / Comic Reviews / Marvel Comics
Captain America and the Falcon #13 - 14
By Kevin Scott
May 29, 2005 - 08:20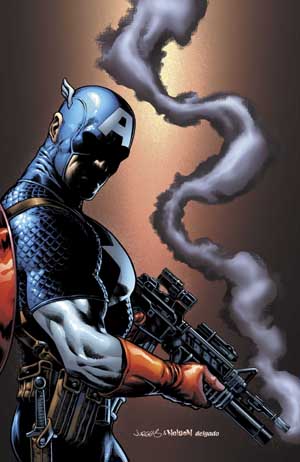 Captain America & Falcon #13
Because of the
Falcon's
increasingly erratic behavior,
Captain America
is forced to sever his long-time partnership with The
Falcon
while the
Anti-Cap
goes on a murderous rampage.
So this was the last arc of a tumultuous run.
Priest
had been doing some real good stuff with the book, but how could it end. As there seemed so much that needed to be addressed. Well, frankly, goddamn!!! This was a story that stood tall and firm and did not shy away from the message it wanted to convey.
Sam Wilson
,
The Falcon
, was he having a breakdown, or had he just decided to stop looking through the rose coloured glasses.
Priest
deconstructs the mythos of patriotism and ethics in a way that is clear and conscious, without being preachy. We definitely get conclusions on some matters, but the way the story ends, damn! You may be angry, wanting to know that last nugget, but in a way, it's the perfect way to highlight the fact that absolutes are not guaranteed and there is definitely more than black and white.
The book had gone through several art changes, but
Priest
and
Bennett
had really been a great fit. So now, with this final hurrah we get another change. When you have a bold, unflinching story, you need art that can firmly stand by its side. And this is exactly what we get from
Dan Jurgens
. His work has a dynamic, boldness about it, which really enthuses the story with the right amount of energy and belligerence. The action and fights have a nice direction to them, (like a good action film on paper) which is summed up nicely with the blow that ends the last fight. There are also moments of introspection, such as
Captain America
bloodied, slumped against the wall. And the way the book finishes is summed up nicely with that last poignant page.
Rating: B+ /10
Last Updated: January 24, 2022 - 11:00