When a City Discovers it Has Culture – Calgary Window Paintings
By Hervé St-Louis
April 12, 2012 - 10:40
Calgary, although it is the official Canadian cultural capital for the year 2012 has a bad rap in Canada. People like to say that it has no culture. Even Northern-based Edmonton with a slightly smaller population and less access to greater urban centers is said to be more culturally inclined. Then, Calgary has to fight with cities that just won't ever allow it to measure up. Montreal, Toronto, Vancouver. How could cowtown compete with huge metropolises several times its size and with histories and world reputations so rich it makes Calgary look-like a backwater?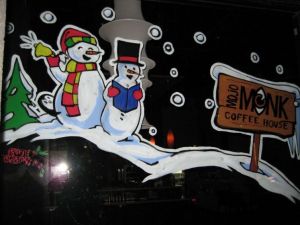 calgarywindowpainting.ca
When I moved to Calgary from Montreal, five years ago, the one common question I got from locals was how I felt about the city. They had this clear inferiority complex that someone from the big city – Montreal is by far Canada's cultural capital historically and effectively even beyond Toronto because of its world famous summer festivals, its cultural mix, excellent architecture, its musical scene and much more. The one common thing about Calgary was that it was trying to be "world-class." It really tried to hire the best chefs, have the best art galleries, tried really hard to measure up to what "world standards" are supposed to be. In that respect, food in Calgary has gotten much better. Expectations and standards keep rising all the time. But one thing bugs me about Calgary. It's how it has Chicago hot dogs, New York pastrami, Montreal bagels, Vancouver pies, Boston subs and so on. Everything is borrowed from some other city 'that has way more culture and history." Great cities borrow, but they don't label where they borrowed from. Montreal borrowed its smoke meat sandwiches from Eastern Europe but never brags about it. New York borrowed its bagels from the same place too, but again, does not brag about it. You'd think smoke meat and bagels were invented there. Toronto has influences from across the world, but again, it's part of its cultural appeal to be a real world city with almost a majority of residents that was not born in Canada.
But Calgary either relies on its cowboy image, which, I'm sorry to say doesn't measure up to Texas. Or it tries to act modern and urban, but looks quite shallow when compared with bigger cities. Downtown Calgary is a ghost town after 5PM. Meanwhile, real local Calgary culture is ignored by most and not celebrated. If you travel to Calgary just before Christmas or during the Stampede "the biggest outdoor show on Earth" TM, you'll notice all the windows in downtown Calgary are painted with what I'd call naive art. It's not really meant for kids. Families don't hang out in downtown Calgary. It's meant for downtown-working Calgarians and visitors. And guess what? You won't see similar display of window paintings anywhere else but in Calgary. When I first saw them, I found them immature and almost fake. Every big business and banks sponsors them. Yet, this form of art is truly unique to Calgary. You will never see something so gaudy in Montreal, Toronto or Vancouver.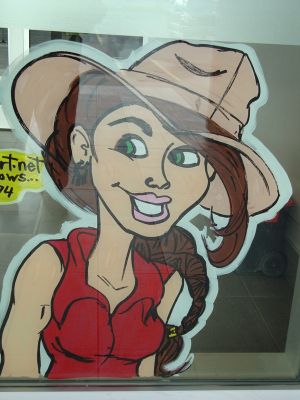 windowpaintingcalgary.com
But locals take this for granted. They think that having culture means having an orchestra, a ballet, an opera that competes with those of Montreal and Toronto. They think it's about the exclusive art galleries that not many people visit or the chefs flown in from New York. It's not. Culture is something you do without really being forced to do it or to invest truckloads of money to do. The window paintings in Calgary may seem naive, immature and cheap, but guess what? This is the closest Calgary has to having something uniquely Calgarian it doesn't have to borrow. It's very typical Calgary. First, it's sponsored by big business. Calgary is all about big companies with big headquarters entertaining the public – ever get invited to one of those corporate Stampede parties by a local big company? They are the most fun – ever! The paintings themselves, tell a lot about Calgary's maturity as a city. Calgary is a new city, barely 100-years-old. It's a young city-population-wise too. It's also a family-friendly city. That's what those windows displays reflect.
For the last five years, I've been telling that to local Calgarians. And those who understand what I mean by culture often stop feeling ashamed by the gaudy windows painting we see all over the city. A friend as even asked if he could make a Website to highlight this (I'm too busy with ComicBookBin to start a site about that). Yes, I answered. That's where real culture comes from. Calgary needs ambassadors to look at its gaudy windows paintings and make exhibits about them, so that both locals and visitors can discover that cowtown has real unique culture, besides the official culture trappings such as theatre, a music scene, an opera, fine dining and a ballet.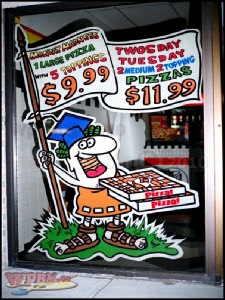 wpbm.ca
Cities don't have culture magically imported or thrown at them. It's something that grows organically. It also takes time. 20 years ago, Toronto was boring. It's changed and finally has nothing to be ashamed of. Montreal used to be a dirty cold city until architecture started changing the city in the 19th century. Vancouver had nothing but the weather going for it, until it found a groovy and yuppie feel of its own. Calgary is full of money but lacks vision. The windows paintings is but one of those uniquely cultural things the city just does that gets overlooked. It's time to start looking at the windows that make up this city.
Last Updated: September 6, 2021 - 08:15