Calgary Expo Sells Out
By Hervé St-Louis
April 28, 2012 - 16:50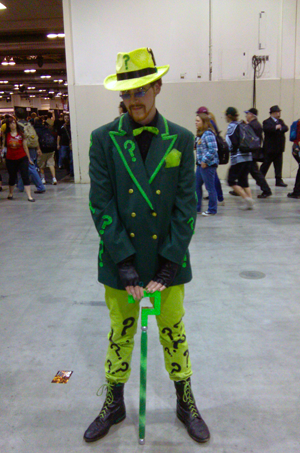 Riddle me this, riddle me that, where are we gonna put all of those people?
By mid-day on Saturday April 28, the second day of the Calgary Expo, fire marshals informed the organizers of the show that they had probably hit maximum capacity for the venue. The show was expected to attract about 60,000 attendees. Although the BMO Center has the capacity to host as much people, as the largest convention centre in Calgary, the Calgary Expo didn't expect all attendees to appear on site at once.
Throughout, the afternoon, the organizers of the Calgary Expo and the venue manager of the BMO Convention Center were able to clear the halls and allow many of the folks trying to purchase tickets at the last minute were allowed to attend the show.
Though it's highly suggested that people wanting to attend popular comic book conventions to pre-purchase their passes in advance, buying passes in advance did not guarantee that all attendees could secure access to the venues. Several convention visitors were rebuked at the doors, just like visitors that were still waiting to purchase their tickets.
Even if visiting on Sunday might be a safer bet for many of the visitors who could not access the Calgary convention on Saturday, the fact that the original line up of the
Star Trek Next Generation
television series was available for the first time might have a lot to do with the popularity of the event in Calgary. It's important to note that refunds were offered to attendees with pre-purchased passes who could not get in.
Many of the visitors to this year's Calgary Expo were from out of town which may explain why the venue could not hold anymore people. Many just tried to buy their ticket at the last minute. There are no venues bigger than the BMO Convention Centre in Calgary, so large adding more real estate to the convention may not be the best alternative.
Last Updated: September 6, 2021 - 08:15