That '70s Action Figure
By Philip Schweier
Sep 5, 2013 - 12:22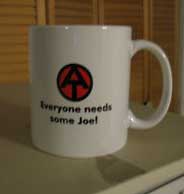 GI Joe's Adventure Team coffee mug

While trolling ebay, I stumbled across this little item, which might be unrecognizable to anyone who didn't grow up in the 1970s.

Y'see, in the age before GI Joe became the arch-nemesis of COBRA, GI Joe was a much smaller franchise in the world of "action figures," a term coined by toy maker Hasbro, GI Joe's corporate parent. When the toy was being developed in the 1960s, it was believed that boys would not play with dolls, so the new phrase was created.

Supporting the use of the phrase was the fact that most girls' dolls have limited points of articulation; usually just the hips, shoulders and neck. An action figure features several more – elbows, wrists, knees, ankles and waist – reflecting a wider range of motion (i.e., action).

One of the earliest was Captain Action, a super-hero unto himself, but you could also buy outfits to put on him and turn him into other heroes, such as Batman, Spider-Man or the Lone Ranger. There was also Action Boy, who could be converted into Robin or Tonto, and Dr. Evil, their nemesis.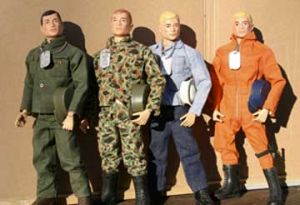 Original GI Joes

While not the most successful of toys, it did open the door for other toy makers to launch their action figure lines, most notably, GI Joe. Dressed in army fatigues or an air force flight suit, the Joes could be sent on raids in back yards all across America, complete with jeeps, howitzers and other equipment. Other accessories included scuba and deep-sea diving outfits, a space capsule and astronaut suit, and assorted military uniforms.

However, as the 1960s wound down and the Vietnam era became more turbulent, the military theme of the toy line fell out of favor. In 1970, the line was rechristened "the Adventure Team." Joe became an all-purpose adventurer, raiding mummy's tombs and wrestling a giant (by Joe's perspective, anyway) snake at his 3' training tower.

Palitoy, which held the GI Joe license in England, developed "life-like hair," a flocked hair and beard that was added to the overall line. An African American figure was also added.

Another innovation was "kung fu grip," the result of the martial arts craze of the day. Hands and fingers were molded out of a softer plastic, enabling Joe to actually grip objects. Later, a lever in the back of Joe's head manipulated the figure's eyes, giving him "eagle eye vision."

Meanwhile, competition began to intrude on the action figure market. Mego launched a similar line of all-purpose adventurers dubbed Action Jackson. Eight inches in height, AJ's accessories included such manly activities as scuba diving, skiing and safari, complete with battery-operated vehicles. However, Joe dominated the market, and in 1972 Mego turned its attention to licensing super-hero characters.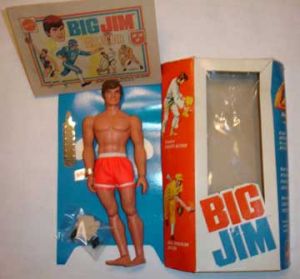 Big Jim

In 1972, Mattel introduced Big Jim, who was smaller in size, approximately 10" in height, and featured a push button in the back that manipulated a "karate chop action." Another feature was the more rubber-like arms that simulated flexing biceps when bent.

He had less of an action/adventure motif than Joe, and initially seemed little more than a male Barbie. He had an extensive wardrobe, mostly sports oriented (baseball, hockey and martial arts), though some outfits included cowboy, police and motorcycle themes.

Later accessories were built around space exploration, camping and fishing, complete with a more masculine version of Barbie's camper. A firefighter's rescue van was added, perhaps due to the popularity of the TV show Emergency!

One television series that definitely inspired boys' action figures was The Six Million Dollar Man. Hasbro attempted to license the character but lost out to Kenner. So instead, it created a bionic character named "Mike Power, Atomic Man," and later added a super-hero, Bullet Man, both of whom worked with Joe on various adventures.

However, by 1976, the bloom was off the rose of action figures geared toward boys. Youngsters who had grown up on the toy line were aging out of the market, without being replaced by younger siblings. The Joes were phased out, and the action/adventure niche was filled by the Big Jim line, which had evolved into the P.A.C.K. (Professional Agents – Crime Killers) series.

The line featured Jim as the leader of a counter intelligence strike team; Warpath, an American Indian based on an earlier figure from the Big Jim line; The Whip, weapons specialist armed with boomerangs, bola and whip, from which he takes the nickname; and Torpedo Fist, with his telescopic cybernetic arm.

Together, they would challenge the evil Zorak, a scientist who transforms into a monster. However, the retooling didn't help the line and Big Jim followed the sales figures of GI Joe and Mego in a downward spiral.

Mego's super-hero line dwindled as it introduced less popular comic book characters. It eventually introduced the Micronauts. Smaller in size and completely plastic, the line proved a more cost effective series of toys, but it eventually faded from the market as well.

Last Updated: Jun 26, 2018 - 9:28