Storytellers Weekend, pt. 7 of 8: History Lessons
By Philip Schweier
April 11, 2010 - 07:41
On Feb. 19 and 20, the Savannah College of Art & Design hosted Howard Chaykin and Klaus Janson, who presented a two-day seminar originally conceived for Marvel Comics. The purpose of the seminar is to introduce new comic artists and Marvel editors, some of whom come from an editorial background and lack the experience to effectively judge comic book techniques, to basic tools of effectively telling a story in the comic book form.

According to Howard Chaykin, the language of comics was invented between 1940 and 1950, mostly by 14-15 year old boys. "Because the men capable of doing good work were getting their asses shot off in the service," he says. "The guys who were our father's generation were all WW II vets. They were all born between 1920 and 1928 so super-hero comics of the second world war were being drawn by their younger brothers – 13, 14 and 15-year old boys. Then, after the war and these guys came home, in the next five or six years a lot of the language they created was codified and made more coherent by guys like Will Eisner and Harvey Kurtzman. That's how comics stayed throughout the 1950s."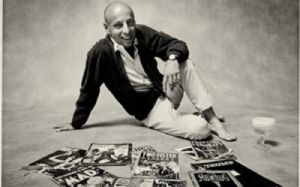 Harvey Kurtzman
Chaykin acknowledges the brilliance that Eisner brought, and that Eisner and Kurtzman basically invented the modern storytelling of comics. "Before them, it was all a bunch of circles and squares, and 50-year-old boys drawing this weird stuff," says Chaykin. "Instead, these guys developed a language, and they should be credited with that. They were responsible for it and what they both understood is that the page is a unit; it's a theme. It's the equivalent of scene on a TV series, the equivalent of a page or chapter of a novel."
Chaykin points out that the great irony is that most of the comics being done at Marvel in the 1960s and '70s was done by guys his father's age. "They weren't done by hep cat bohemian artists, they were all Republicans. They were basically suburban guys, very conservative, who created the language of how to draw a comic."
Chaykin cites his mentor, Gil Kane, as an example. "Gil...delivered and developed a style of work that remains profoundly influential. We talk about Jack Kirby all the time, but Gil Kane was as much if not a greater influence than Kirby. For my generation, Kirby's figures moved; by the end of his career they were just sort of planted. Gil's stuff had a balletic, emotive quality that still is felt in comic books today."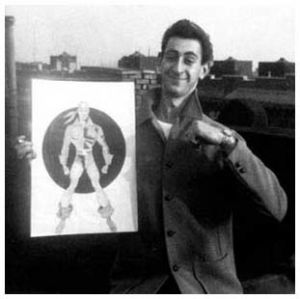 Gil Kane, during his days in the service
Chaykin describes Kane as a generic artist, never using reference. "He drew one suit, one car, one gun, one city," says Chaykin. "He tried at the end of his career to work with reference and he was completely stymied by it. He could not get over the hump, because Gil was a guy at the end of his career who was able to learn from guys a third his age. I'll never forget, I was at the office at Marvel when Michael Golden and Armando Gil brought in some work,
Avengers
, I think, a phenomenal piece of work, truly astonishing. There were feats in that job that are so subtle and so profound. Gil and I are standing looking at this job 25-30 years ago, and I can see him raging, because he was competing with guys a third his age."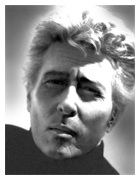 Jim Steranko
In the late 1960s and early 1970s, Chaykin and others of his generation came in and looked at what Neal Adams and Jim Steranko were doing. "It's significant that Steranko and Adams were the only guys our age in comics at the time," he says. "Steranko and Adams introduced all the psychotic bravura storytelling. They each knew technique that became the language."
Chaykin's approach is to use everything. "I will apply Harvey Kurtzman techniques wherever appropriate. I will apply Neal Adams technique where appropriate. And you as the audience won't notice it, because it's of a piece."
He encourages others to do the same, and to take advantage of the adage that everything old is new again. "Find all the old stuff, figure out a way to steal from it, be inspired by it and use it and apply it to your own. Take what Neal did, what Steranko did, what Jack did, what Gil did, what Harvey did, because you can do anything. That's one of the really cool things about doing comics today. You don't have to be a grid guy, you don't have to do free-form, you can do anything.
Janson points out the key word that Chaykin used is "appropriate," using whatever technique in an appropriate way.
Currently, Chaykin is working on a mainstream comic book. "I'm doing a book right now that involves a lot characters and whose history goes back to the '70s and '80s, and I'm having to dig up some reference material and it's just mind-numbing how bad the reproduction is." He says this is due to the use of plastic printing plates, which was more economical. However, after a certain amount of time on the press, the plastic plates would melt due to the heat generated by the machinery.
"So you'd get reproduction where your line was much more squiggly because the plate was melting and nobody really cared," says Klaus Janson. "It's generally conceded that the '90s were a real low point in terms of comics."
"I wouldn't know. I worked in television in the '90s," quips Chaykin.
According to Janson, "Marvel was in bankruptcy and DC was just, well, boring, but they kind of got their act together at the turn of the century, around 2000, 2001."
From what Chaykin saw in comics in the 1990s, everything was defined by one idea run into the ground. "There were imitations of this and knock-offs of that, and the knock-offs were doing just as well as the original so there was no real encouragement to do any better work. Middling talent was becoming multi-millionaires, because you as fans, some of you were buying these books, and don't give me that look, young man."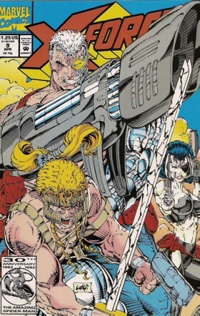 Rob Liefeld was one of Marvel's "big guns" during the 1990s
"When the Image guys came along," continues Chaykin, "and they started realizing they could make a lot more money by doing pages that were sold to comic art collectors by doing these full page headshots, they completely denatured and diminished the context of the comic book panel. What they did – and I'm talking about (Rob) Liefield – they basically created a pandering set of vocabulary that has no link whatsoever to what comics are about. They took advantage of the more debase elements of the comic book fan crowd and sold it. It diminished the work we do and the craft we bring.
"You have choice to make: You can be a whore, or you can be like us," summarized Chaykin.
Janson is quick to point out that those aren't an artist's only two options. "In 2010, I don't want to go out on a limb, but I think the work has never been better. I think that that the medium itself in terms of mainstream and independent publishing and underground comics is healthier than it's ever been in terms of creativity, in terms of options, in terms of opportunity for all of us."
Next Time: Comics Today... and Tomorrow
Last Updated: September 6, 2021 - 08:15