Adventures in Animation With Ray Harryhausen
By Philip Schweier
December 6, 2007 - 18:09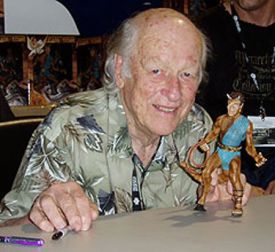 Ray Harryhausen with one of his many creations for Clash of the Titans
There is a certain charm to doing things the old fashioned way. Hand-made furniture is often more desirable than that made by machine. With that in mind, the efforts of special effects filmmakers past must be acknowledged, if not for the seamless way their work blends with live photography, but for the countless hours and foresight that went in to creating life out of lifelessness with little but their own hands and infinite imagination for tools.
Enter Ray Harryhausen. Born on June 29, 1920 in Los Angeles, Harryhausen's defining moment came in 1933. "I first saw
King Kong
by accident," he says on his website. "My aunt was a nurse and had been taking care of Sid Grauman's mother. She was given three tickets for the film and took my mother and myself."
The future filmmaker saw the film over and over again, transported each time to a magical world of fantasy. "I haven't been the same since."
Kong was a fascination to him, as he tried to figure out how the giant ape – in reality not even two feet tall – came to life. Credit belongs to Willis O'Brien, who created the iconic creature. Harryhausen admits to being in awe of O'Brien, and made every effort to learn all he could about stop-motion photography.
Fortunately a friend of his father's worked at RKO, and was able to help the budding animator. Harryhausen began experimenting in his garage, going so far as to cut up his mother's fur coat to create a cave bear. While one might expect to be punished for such a deed, it was done with his mother's approval, and both parents were very encouraging.
"Through the years they became interested in what I was doing," he said in an interview. "They encouraged me enormously. It was most helpful especially in those periods where one gets discouraged."
His father was a machinist, and until his death in 1964, built many of the armatures Harryhausen used in his films. His mother put her seamstress skills to work creating costumes for the fairy tales shorts Ray would later create.
As he grew older, he'd hoped to turn his passion into a career, enrolling in the University of Southern California to learn the photographic techniques to bring his creations to life, as well as art classes in drawing and sculpture.
In 1939, while still in school, he met a girl whose father was working with O'Brien on the film
War Eagles
. She suggested Harryhausen call him up and ask for a meeting, which he did. O'Brien offered his young fan some constructive criticism.
The following year, Harryhausen began work on
Evolution
, an intricate film based on the origin of the species. "I started this grand project hoping it would be released in schools and used as a documentary of some sort," he recalls. The project was never finished, proving too ambitious for the novice filmmaker. Nevertheless, the footage he did complete served as an excellent demo-reel, drawing the attention of George Pal, who was making Puppetoons for Paramount.
In 1942, Harryhausen was drafted, but his knowledge of movie making earned him an assignment to a film unit where he made animated training films.
Following the war, Harryhausen returned home where he independently made a series of animated Mother Goose tales using army surplus film stock that he had retrieved from the scrap pile. Released by Bailey Films, Little Miss Muffett provided enough capital for an additional four films: H
ansel & Gretel, Humpty Dumpty, Little Red Riding Hood
and
Rapunzel
. A sixth,
The Tortoise & the Hare
, was begun but never finished. With these shorts, he perfected a method of altering facial features of his characters by dissolving in eight frames from one expression to another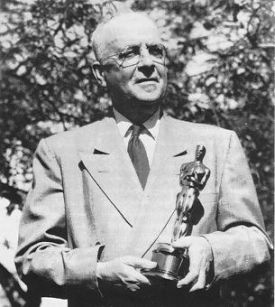 Willis Obrien with his Academy award
In 1946, Harryhausen was recruited by Willis O'Brien, who was working on another ape feature,
Mighty Joe Young
. Remembering Harryhausen from their earlier meeting, O'Brien hired him to assist, though Harryhausen estimates he did about 85 percent of the animation. O'Brien received an Oscar for his work on the film in 1949.
Harryhausen later met producer Jack Dietz, who would produce 1953's
The Beast from 20,000 Fathoms
. The movie, based on a story by long-time friend Ray Bradbury, featured a dinosaur rising from the ocean. The result was one of the most influential sci-fi films of the 1950s.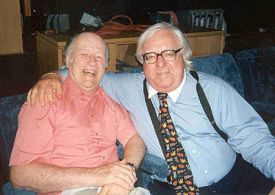 Ray Harryhausen with lifetime friend Ray Bradbury
At this time, Harryhausen pioneered a split-screen technique to insert dinosaurs and other fantastic beasts into real-world backgrounds. He named it "Dynamation," and it is still used by stop-motion animators today.
Buoyed by the success of his first feature film, Harryhausen laid the foundation for additional films with Dietz, but financing was problematic, and plans never got off the ground. Disappointed and with few other options unavailable, Harryhausen resumed working on his fairy tales.
But it is said to be darkest before the dawn, and the first rays of sunshine appeared in the form of Charles H. Schneer, a young producer who was currently working on Columbia's
It Came From Beneath the Sea
, in which a giant octopus destroys the Golden Gate Bridge. Harryhausen's growing artistry and expertise became more evident, and the film capitalized on the monster craze of the era.
Together, Harryhausen and Schneer began an enduring partnership. Their next film was
Earth vs. the Flying Saucers
(1956), typical of the invasion stories common to 1950s science fiction. Harryhausen's whirling saucers destroyed much of Washington, D.C. Such controlled chaos is meticulous work, as each fragment of the capitol dome or Washington Monument was a separate piece of rubble, animated on its own wire. The wires would have be painted to match the background, and repainted as backgrounds changed. Such work is arduous and time consuming, adding to production costs.
In an effort to minimize costs, Harryhausen was very active in planning out live action sequences that would later be blended with his animation. Extensive storyboards were also used, to avoid any unnecessary shooting in order to keep the film on time and on budget.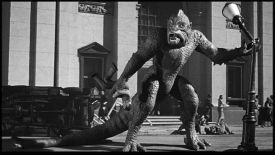 The Ymir rampages through Rome
Their next film was
20 Million Miles to Earth
(1957), in which the Ymir, a creature from Venus, is brought to Earth, and once out of its natural habitat, falls victim to the fear common to 1950s science fiction films. It grows into a sizable menace, running amok through Rome in scenes reminiscent of Kong's New York rampage.
But like Kong, the Ymir is endowed with a sympathetic nature. Eight-time Academy award winner Dennis Muren of Industrial Light & Magic cites the creature as indicative of the Harryhausen's artistry in bringing his monsters to life. "When the creature hatches at the beginning, it rubs its eyes. You really get a feel and empathy for the guy. It's true through all Ray's films, that empathy for character. It's an actor. You're watching an animated actor on the screen."
By the end of the 1950s, Harryhausen and Schneer had grown weary of destroying things. The two filmmakers turned their cameras toward the fertile world of fantasy and myth, beginning with the highly acclaimed film,
The Seventh Voyage of Sinbad
(1956). Using eight drawings Harryhausen had developed years prior, Schneer was able to sell the film to Columbia. The movie was also Harryhausen's first opportunity to experiment with color, as mythic creatures such as the cyclops were brought to life.
In an interview on
The Seventh Voyage of Sinbad
DVD, star Kerwin Matthews relates how the actors created seemingly realistic sword fights with creature that Harryhausen would later animate. "One of the more interesting sequences that's become sort of a 10-minute classic was a sequence involving a sword fight that Sinbad had with a skeleton. This had to be worked out and it was a little bit of trial and error. The man who was helping me with my sword fighting was also helping Ray in planning the way he would have to film it involving me.
"We had to be so precise in order to make sure the swords eventually met and so forth on the screen that we started counting, the sword master and myself. It finally worked out that we were choreographing things exactly the way you'd choreograph a dance in counts of eight. We'd work out a routine in the count of eight and we'd do it and eventually when the camera was turning we'd shoot it with the fencing master playing the skeleton and counting out the eight and we'd keep the camera rolling and he'd run behind the camera and we'd do it again, same, beat, same rthym."
The 1960s were Harryhausen's most prolific years, beginning with
The Three Worlds of Gulliver
(1960), which also starred Kerwin Matthews. Schneer and Harryhausen experimented with a new approach by using no animation whatsoever. The film is a feast of special effects shots using process photography and traveling matte shots. Some shots were accomplished simply by having Matthews in the foreground, and other actors as the Lilliputians some 20-30 feet further back. By keeping both in focus through a special lens, this "forced perspective" conveyed the enormity of Gulliver's size.
The Mysterious Island
, based on the novel by Jules Verne, followed in 1961.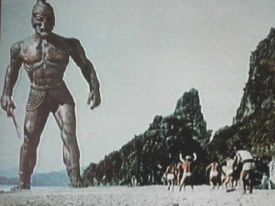 Talos, the bronze giant from Jason & the Argonauts
Fans and critics, as well as Harryhausen himself, regard
Jason and the Argonauts
(1963) as his best film. One sequence involving a 200-foot bronze giant presented a new challenge to Harryhausen: intentionally making the movements of the colossus seem awkward and stiff, as the creaking, metal giant menaced the crew of the Argo.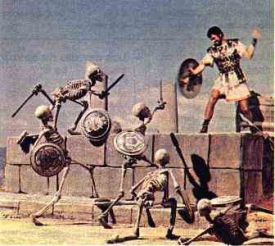 The climactic scene from Jason & the argonauts
Because Harryhausen worked alone on his stop-motion animation sequences, completing the films could often take as long as two years. He has cited how simply answering the telephone could throw him off track, especially when animating the multiple heads of the hydra or the climactic battle with sword-wielding skeletons. Moving five appendages on the seven skeletons resulted in 35 movements per frame of film. Such complex sequences often resulted in him shooting less than 13 frames of film – or a half-second – per day.
Among the highlights of the 1960s were an adaptation of H.G. Welles
The First Men in the Moon
(1964), his reunions with dinosaurs in Hammer Films'
One Million Years B.C.
(1966) and
The Valley of Gwangi
(1969).
His pace slowed in the 1970s, but he produced two of his masterworks during that period:
The Golden Voyage of Sinbad
(1974) and
Sinbad and the Eye of the Tiger
(1977).
Harryhausen's final film was
Clash of the Titans
in 1981, also produced by Schneer. By this time, Hollywood had changed, and high-profile fantasy films such as Star Wars had raised the bar for special effects. Action sequences needed to be bigger, and Harryhausen's time-consuming work was no longer in vogue. For the first time, Harryhausen took on assistants at the demand of the studio looking for a quick return on their bid budget investment.
"The thing that finally persuaded me to quit was that I saw that the nature of the hero was changing," he writes on his website. "When I was growing up we had heroes such as Cary Grant, Ronald Coleman and David Niven, real gentlemen on the screen. Now, all you have is Arnold Schwarzenegger, Sylvester Stallone and all those people who solve problems with their fists. It's a different world and I sometimes feel I'm not part of it. Say what you like about Hollywood in my time, but they were in the business of happy endings, of escapism."
In 1992, at the 64th Academy Awards, Harryhausen was honored with an Oscar for his lifetime of extraordinary achievements, a long-overdue tribute to a talent that personifies visual magic.
With the advent of computer-generated imagery, his stop-motion technique may seem outdated. However, many of his films are regarded as classics, and continue to stir the imagination in ways that CGI never can.
Still, Harryhausen films are benefiting from the latest filmmaking technology. Many have been computer-enhanced, cleaning up the sound and print quality for the home video market. In August 2007, a colorized version of
20 Million Miles to Earth
was released on DVD. While many purists express a disdain for colorizing older black and white films, Harryhausen took a more optimistic view. In an interview in the New York Post, he suggests a pre-conceived prejudice based on the process from the earlier days of computer-colored movies. "I'm very impressed with what they can do now," he added, endorsing the new life his films may enjoy.
"Fantasy is essentially a dream world, an imaginative world," he explains in a behind-the-scenes feature on
The Seventh Voyage of Sinbad
. "I don't think you want it quite real. You want an interpretation and stop motion to me gives that added feel of a dream world that you can't catch if you try to make it too real, and that's the essence of fantasy, of transforming reality into the imagination."
Since his retirement, Harryhausen has led a quiet private life in London, tinkering with some of the film artifacts he's managed to keep. Many were cannibalized for later films, and some have deteriorated over the years. "There's a certain childlike quality one has to maintain for the love of fantasy."
In March 2006, a book,
The Art of Ray Harryhausen
, featuring much of the pre-production art he created for his films, was released to the delight of fans. He also lent his name to a comic book series published by Bluewater Productions.
"I'm very happy that so many young fans have told me that my films have changed their lives," he says. "That's a great compliment. It means I did more than just make entertaining films. I actually touched people's lives – and, I hope, changed them for the better."
Praise and adulation? Scorn and ridicule? Email me at philip@comicbookbin.com
Last Updated: May 19, 2020 - 12:25