To Die But Once book review
By Leroy Douresseaux
March 23, 2018 - 20:04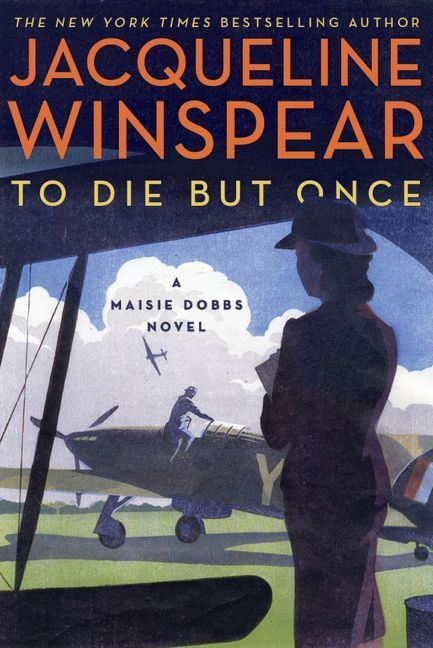 To Die But Once cover image
To Die But Once
is the new novel from author
Jacqueline Winspear
. It is the 14th novel in the series starring "psychologist and investigator,"
Maisie Dobbs
, a former British nurse whose adventures begin during World War I and continue in the decades that follow. To Die But Once finds Maisie investigating the disappearance of a teenage apprentice working on a hush-hush government contract, while
Great Britain
prepares for an attack from
Germany
following Britain's declaration of war.
To Die But Once
opens in May 1940. It is spring and the worries of a nation at war blooms as much as, if not more than the flowers of the new season. A neighbor of Maisie's,
Phil Combes
, the landlord of a pub, visits her and asks the respected investigator to look into the disappearance of his 15-year-old son,
Joseph Combes
. Young Joe is an apprentice of a painting concern,
Yates & Sons
, which has gained a government contract to go about the countryside and paint a special fire retardant chemical on important and strategic governmental and military buildings.
Maisie's investigation takes her from the
London
underworld to the countryside of rural
Hampshire
(a county on the southern coast of England). There she will find wartime opportunism and the biggest banking institutions, reminders that money and war are inextricably linked. Meanwhile, the son of Maisie's closest and dearest friend makes a monumental decision, one that will affect him and his family forever. Meanwhile, Great Britain worries as word reaches British shores that her fighting young men and women are stranded on a beach in
Dunkirk, France
.
THE LOWDOWN:
To Die But Once is the third Maisie Dobbs novel that I have read. It seems like it is the most personal, and while the central mystery is quite engaging, the novel grapples with so much more. To Die But Once is a story of the family ties, those family ties that bind, family obligations, the burden of a family legacy, and the creation of a family outside of blood ties.
To Die But Once is at once poignant and then, absolutely thrilling. I found myself tearing through the book to discover whodunit, but I was eager for the twists and turns of the family melodrama. Not to mention, but I must mention: To Die But Once is also a rousing story of Great Britain coming together in the early months of its war with Germany, and it is also a recollection of how the people of the United Kingdom worried about their boys trapped at Dunkirk.
The previous novel, In This Grave Hour, was a straightforward murder mystery, although the novel dealt with themes concerning families. To Die But Once is a straightforward family drama, period piece, and historical novel, but it also offers some of Maisie Dobbs' most wily moves as an investigator. To Die But Once is every bit the great read that In This Grave Hour was, and at times, for me, it surpassed anything of Jacqueline Winspear's that I had read prior to it. So I eagerly await the return of Winspear and her first lady of period mystery, Maisie Dobbs.
I READS YOU RECOMMENDS:
Fans of Maisie Dobbs, of World War II era novels, and of British mystery novels will want
To Die But Once
.
A+
10 out of 10
Rating: 10 /10
Last Updated: January 24, 2022 - 11:00