A Death in Live Oak book review
By Leroy Douresseaux
February 13, 2018 - 21:35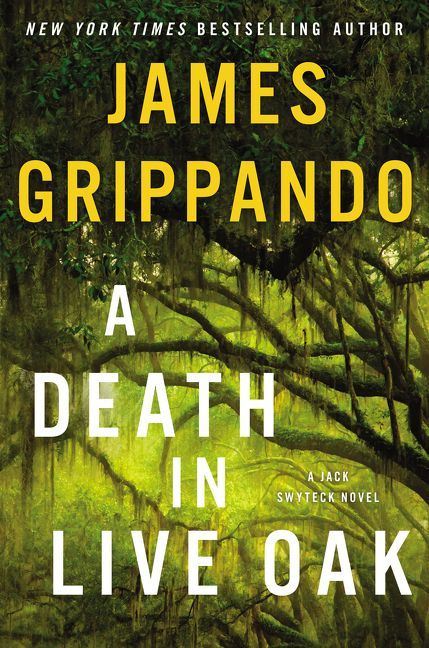 A Death in Live Oak book cover image
A Death in Live Oak
is the new novel from author and attorney
James Grippando
. It is Grippando's 26th novel and also the 14th novel starring Grippando's Miami-based, criminal defense attorney, Jack Swyteck. Grippando was the 2017 winner of the Harper Lee Prize for legal fiction (for 2016's
Gone Again
– Jack Swyteck #12). In
A Death in Love Oak
, Swyteck defends a white fraternity president accused of killing a black fraternity president.
Jamal Cousin
is the president of the preeminent black fraternity at the
University of Florida
(UF). One day, his body is discovered hogtied and hanging from a tree in the dark water swamps of the
Suwanee River Valley
, near the town of
Live Oak
, in north-central Florida. Jamal's murder recalls the gruesome murders of the Jim Crow era, particularly a similar murder of a young black man in 1944.
The police arrest three white fraternity brothers from
Theta Pi Omega
, the premiere (and all-white) fraternity at the University of Florida, in the killing of Jamal Cousin. Jamal's death sets off a firestorm that threatens to rage out of control, and defense attorney Jack Swyteck is thrown into the middle of it when he agrees to represent one of the accused,
Mark Towson
, the president of Theta Pi Omega.
Jack must contend with rising political tensions, racial unrest, and a sensational media, and the evidence against Towson is damning. It includes a text from Mark's phone to Jamal that references "'strange fruit' on the river. Inside and outside the old
Suwanee County Courthouse
, Jack fights to protect his client's life and prove his innocence, and the more he investigates, the more he believes that Mark himself may be the victim of a sinister criminal plan. Meanwhile, Jack's wife,
FBI Agent Andie Henning
, is in the north-central Florida area working an undercover assignment that may be connected to her husband's case.
THE LOWDOWN:
I read my first Jack Swyteck novel,
Blood Money
(2013), a few years ago. Since then, I eagerly look forward to each new James Grippando novel, especially the Jack Swyteck series.
A Death in Live Oak is probably Grippando's most daring and thrilling Swyteck novel to date. The author tackles the red-hot, hot button issue of American racial relations while digging in the past to show that racism haunts all Americans, not only spiritually, but also in affecting the way people act and live to this very day. Some of this novel's plot, subplots, and narrative may stretch credulity, but the emotions, the heartache, and the betrayal resonate and seem honest.
A Death in Live Oak is a February and winter book release, but it roils like a cauldron filled with several summer pot boiler novels. Once again, James Grippando proves that he is a high-prince of the legal thriller, filling his novels with the heart and soul and with the sense that flesh and blood people must deal with the consequences of what we think of as mere courtroom drama entertainment.
I READS YOU RECOMMENDS:
Fans of suspense, crime fiction, and legal thrillers will find that
A Death in Live Oak
is a must-read.
A
9 out of 10
www.jamesgrippando.com
Rating: 9 /10
Last Updated: January 24, 2022 - 11:00