Top 100 Comic Book Movies book review
By Leroy Douresseaux
December 3, 2017 - 21:17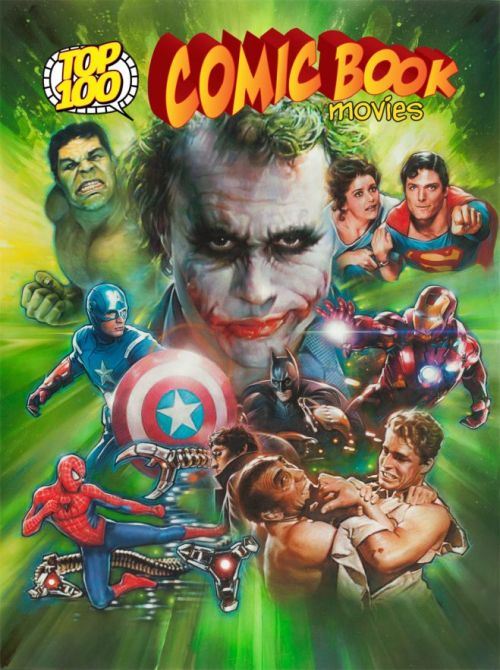 Top 100 Comic Book Movies cover image
Introduction by Kenneth Johnson
Top 100 Comic Book Movies
is a nonfiction paperback book (8 1/2" x 11") from author, comic book writer, and illustrator,
Gary Gerani
. In this full-color book, Gerani (who co-wrote the cult horror film,
Pumpkinhead
) offers his list of the one hundred best films (theatrical and television) adapted from comic books and comic strips. Top 100 Comic Book Movies, which was released in June of this year, is the fourth book in a series released by IDW Publishing imprint, Fantastic Press.
Top 100 Comic Book Movies covers films from early Hollywood, like the theatrical film serial,
Flash Gordon
(1936), to today's special effects extravaganzas, such as the films based on
Avengers
,
Batman
,
X-Men
, and
Spider-Man
comic books, to name a few. Gerani provides historic overviews of what he thinks are the greatest works of the unique film genre of "comic book movies." Each film on the list is illustrated by a dazzling array of photographs, stills, full-color posters, and rare items. This book reveals that after a shaky start, the comic book movie is a genre that has taken Hollywood and the movie-going world by storm, and the best may be yet to come.
THE LOWDOWN:
Okay... you want me to be honest with you, dear readers, so here goes. I don't think that there are enough comic book movies: theatrical, television, or otherwise, that are good enough to make me want to make a Top 100 list. Some of the films that Gerani includes in this book are movies that I like in part or in whole, but I don't find enough in them to be worth the bother of sitting down and ranking 1 to a 100. But I do love me some
Sheena
starring Tanya Roberts (Gerani's #97).
That said: I think Top 100 Comic Book Movies is probably an indispensable reference source for people who like comic book movies, want to begin to study them, or get to know about more of them. Top 100 Comic Book Movies is a kind of goofy title, too fan-ish for its own good, and this title undersells how detailed this book actually is.
For the record, I don't agree with the order of a lot of this "best of" list. [I should note that time considerations did not allow the author to consider such Summer 2017 comic book movies as
Spider-Man: Homecoming
and
Wonder Woman
for inclusion.] I do agree with Gerani that Christopher Nolan's 2008 smash hit and Oscar-winner,
The Dark Knight
, is probably the best or #1 comic book movie, at least up to this point in time. I would say that 1978's
Superman: The Movie
(Gerani's #3 pick) is the most important comic book movie of all time, because it bridged the promise of comic book movie's primitive past with the modern comic book movies made possible by the continuing advancements in cinema science and technology.
If some of your favorite movies did not make the top 100, Gerani has a list of other notable movies adapted from comic books and comic strips (pp, 194 to 198). This is where some of my favorite adaptations
(Hellboy II: The Golden Army
,
Virus
) reside. A book like this also needs a handy index, and Gerani provides one for us so we can discover upon what pages our favorite heroes and movies are mentioned or discussed.
Television writer, producer, and director ("Alien Nation," "Bionic Woman," "The Six Million Dollar Man," and "V") Kenneth Johnson pens this book's introduction. In it, he talks about the time he worked on the television movie, "The Incredible Hulk" (1977), and the long-running TV series (1978 to 1982) it inspired. That is a nice little extra from Top 100 Comic Book Movies.
I READS YOU RECOMMENDS:
Fans of comic book movies will probably want or need
Top 100 Comic Book Movies
.
A-
7.5 out of 10
Rating: 7.5 /10
Last Updated: January 24, 2022 - 11:00