Mississippi Blood book review
By Leroy Douresseaux
August 22, 2017 - 15:09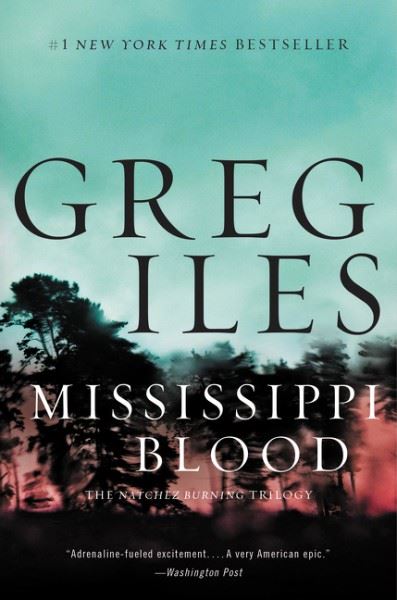 Mississippi Blood cover image
Mississippi Blood
is a 2017 novel written by author
Greg Iles
. It is the third novel in Iles' Natchez Burning trilogy, following
Natchez Burning
(2014) and
The Bone Tree
(2015). In this final novel,
Penn Cage
must bear witness to the trial of the century, as far as the people in and around Natchez, Mississippi, are concerned – the trial of his father,
Dr. Tom Cage
, for murder.
As Mississippi Blood opens, Penn is still mourning the death of his bride-to-be, Caitlin Masters, but he will have to put his grief on hold. His father's trial for the recent murder or "mercy killing" of
Viola Turner
is about to begin. Viola was the African-American woman who was once one of Dr. Cage's nurses; she was also his lover in the 1960s and bore him a love child. That child is now an adult, the vengeful
Lincoln
Turner
. On one side of the trial is
Shadrach K. Johnson
, the Natchez district attorney who is determined to get a conviction against Dr. Tom Cage in order to settle old score. On the other side is one of the most famous defense attorneys in Mississippi, the legendary African-American lawyer and courtroom magician,
Quentin Avery
.
Right from the start, however, Penn realizes that Quentin and his father have concocted some kind of cock-eyed plan in which they seem to let Shadrach score every point he wants with the jury and with the no-nonsense
Judge Joe Elder
. Could his father want to be convicted, Penn wonders and worries? Meanwhile, the last vestiges of the vicious Ku Klux Klan offshoot, the
Double Eagles
, continue to hover at the edges of this trial.
Penn believes that longtime Double Eagle,
Snake Knox
, is really behind Viola's murder. Snake also has a score to settle, as Penn recently killed his nephew, Forrest Knox, the son of the Eagles' founder (the late Frank Knox) and a high-ranking, but corrupt officer in the Louisiana State Police. Now, the secret histories of two families will be revealed as Penn and Lincoln race towards a final showdown with Snake and his crew. And even that may not save Dr. Tom Cage from prison.
THE LOWDOWN:
I wrote in my review of Natchez Burning that it was probably the best 862-page novel that I had ever read. The Bone Tree is one of the best almost-900-pages-long novel that I have ever read. So Mississippi Blood is one of the best novels of 700+ pages that I have ever read.
Natchez Burning is a Southern Gothic novel: violence, racism, sex, blood, family scandal, corrupt cops, and Jim Crow. The Bone Tree is a Southern-fried crime novel and Deep South historical, complete with drug dealers, corrupt cops, the FBI, the JFK assassination, the mafia, dirty lawyers, dishonest politicians, a hunting lodge, a Texas Ranger, jailbreaks, shocking murders, and a hidden legend in a labyrinthine swamp.
Mississippi Blood is a courtroom drama and a denouement. Most of the narrative is taken up by Tom Cage's murder trial and the secrets (some decades old) that trial forces into the open. Greg Iles pulls off something that is difficult in any medium – turn a criminal trial into a thrill-machine that constantly delivers jolts. Only the television series, "Perry Mason," of the 1950s and 60s, could make just about every minute of a murder trial hard to ignore.
Seriously, Greg Iles makes the murder trial the centerpiece and bulk of Mississippi Blood. After the end of the trial, dealing with the leftover racists, particularly Snake Knox, seems like a mere formality. That is sad because, as long as this novel is (and as long as it took me to read it), I did not want it to end. You'd think after almost 2500 pages that I would have enough of the Cage family, the Knox family, and Viola Turner (the woman who connects them), but I don't.
Greg Iles is a great American novelist, and with the Natchez Burning trilogy, he has delivered three great American novels set in the great American cauldron that is the part of eastern Louisiana and the part of western Mississippi that is connected by the mighty Mississippi River. There, stories might end, but they are chapters in a never-ending epic. Iles' Natchez Burning trilogy is that epic that casts a mighty shadow, and if anyone else attempts an epic set in this region, it will live in that shadow.
If you need another reason to read this fine finale, here it is. Read Mississippi Blood before the Natchez Burning television series begins.
I READS YOU RECOMMENDS:
Readers looking for explosive genre fiction that reads like literary fiction will want to drink deeply of
Mississippi Blood
.
A
9 out of 10
Rating: 9 /10
Last Updated: January 24, 2022 - 11:00