Song of the Lion book review
By Leroy Douresseaux
July 3, 2017 - 20:54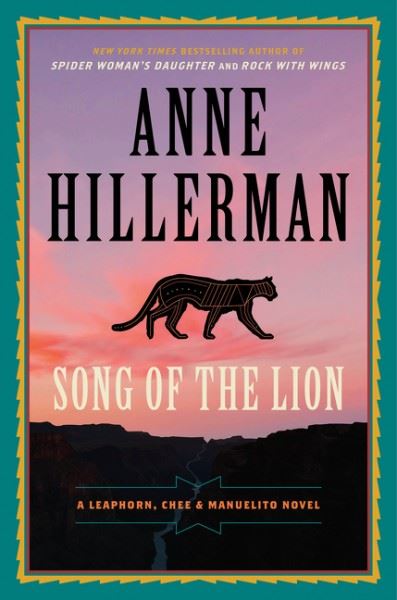 Song of the Lion cover image
Song of the Lion
is a new novel from author
Anne Hillerman
. It is the third novel in the "Leaphorn, Chee & Manuelito Series," which began with
Spider Woman's Daughter
(2013). This series is a continuation of the "Joe Leaphorn and Jim Chee Series" written by Hillerman's late father, bestselling author, Tony Hillerman (1925-2008). In the new novel, Navajo Tribal cops, Jim Chee and Bernadette "Bernie" Manuelito, try to unveil the perpetrators and reasons for a car bombing, and call on the assistance of the now-retired Joe Leaphorn.
Song of the Lion
opens in
Shiprock
(Navajo Nation) at the Shiprock High School gymnasium a.k.a. "the Chieftain Pit of Pain." Navajo Tribal police officer
Bernadette "Bernie" Manuelito
is attending the game as a fan when a car bomb goes off in the parking lot outside the gym. Staying calm and professional, Bernie manages the problematic crime/act of terror scene, and she discovers a victim of the bombing. The young man,
Richard Horseman
, however, was not the intended victim.
The target turns out to be the car's owner,
Aza Palmer
, a well-known lawyer. Palmer is also the mediator for a controversial, multi-million-dollar development project that could be built at the
Grand Canyon
. The planned location is considered either sacred by local tribes or environmentally sensitive by environmental and eco activists. Could this bombing be an act of eco-terrorism or an attack by interests against the Grand Canyon project?
Now, Bernie's husband, fellow Navajo Tribal cop
Jim Chee
, has been assigned as the bodyguard to Palmer for the mediation in
Tuba City
. There, a multitude of interests will gather for the mediation to express themselves regarding the planned Grand Canyon resort. As the mediation begins, Bernie and Jim begin to discover that the bombing and the threats against Palmer may be connected to a larger conspiracy. With the help of retired
Lieutenant Joe Leaphorn
, the couple attempt to solve a mystery that goes all the way to a past case of Leaphorn's.
THE LOWDOWN:
I have been waiting two years for Anne Hillerman's third "Manuelito, Chee & Leaphorn" novel, since the second one, 2015's
Rock with Wings
, was released. I requested a galley copy of Song of the Lion from HarperCollins after they offered one, but I never received it. When I realized a few weeks ago that the novel had been released, I immediately bought a copy from Amazon, and Song of the Lion is worthy is every penny.
In my review of Rock With Wings, I wrote that Hillerman gave equal time to both Bernie and Chee, putting their law enforcement skills and talents on display by putting before each character a different kind of case. In Song of the Lion, Hillerman brings Joe Leaphorn into this book in a way that she did not the previous two novels. She does not give Leaphorn (who was the original star of her father Tony's series) equal time with Manuelito and Chee, but still makes him a major player and not a supporting player. It is as if Hillerman is finally really grappling with the character – who he was and what he can be under her guidance.
As she has done with Manuelito and Chee, Hillerman gives out the little details and secrets of an interior life that not only brings the character to life, but that also makes Leaphorn seem human, frail, and oh-so-real. There have been times when I have been reading this series and Hillerman's descriptions and depictions made me think that I was reading a work of journalism about real people. That's why I hate to come to the end of one of these books; it's like I'm leaving family.
The whodunit and what-was-it of Song of the Lion are complicated and messy because the truth involves deep personal feelings and deeply held beliefs and ideologies. Blood is spilled, a life is taken, and people are threatened because it ain't business; it's personal. Anne Hillerman makes the reader believe that she is getting beneath the skin of her characters. Her mystery and crime fiction stands out as something special and something more than simply "case closed."
I READS YOU RECOMMENDS:
Fans of Tony Hillerman and lovers of a good police procedural and mystery novel will want to hear the
Song of the Lion
.
A
9 out of 10
Rating: 9 /10
Last Updated: January 24, 2022 - 11:00