Chaos book review
By Leroy Douresseaux
January 17, 2017 - 10:24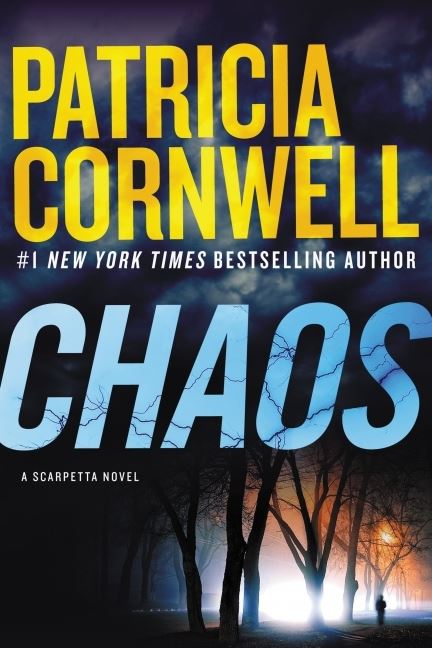 Chaos book cover image
Chaos
is a crime novel from best-selling author
Patricia Cornwell
. It is the 24th novel in Cornwell's
Kay Scarpetta
series, which began with the 1990 novel, Postmortem. Chaos finds Dr. Scarpetta investigating the mysterious death of a 20-something young woman, and the clues point to an unlikely and perhaps impossible means of death.
Chaos opens on a Wednesday, September 9th, a particularly harried day for Dr. Kay Scarpetta, forensic pathologist and director of the Cambridge Forensic Center (CFC). The hustle and bustle is leading towards an event at Harvard in which Kay will share the stage with an old colleague. However, in the sweltering heat of a late Summer day, a young woman is killed shortly after meeting Kay. The investigation is also complicated by a cyberbully who calls himself "Tailend Charlie," and it seems that Kay isn't his only target.
THE LOWDOWN:
After reading 2014's
Flesh and Blood
and 2015's
Depraved Heart
, Chaos is the third Kay Scarpetta novel (and also the third Patricia Cornwell novel) that I have read. Flesh and Blood read as if it were a blend of the action-adventure, mystery, and spy genres. Depraved Heart felt like a crime novel transported into the haunted house genre.
Unpredictability is the theme of Chaos. Practically every scene, subplot, and character entrance seems to be manipulated by a puckish game master, and in this shifting field of play, Cornwell presents Kay Scarpetta as vulnerable and exposed. The brilliant scientific mind seems almost ordinary, a working stiff who must rely on her training, knowledge, and skill because of a homicide and an enemy that both challenge her in... well, unpredictable ways.
I guess it comes down to the simple fact that Chaos is an excellent read. Not being able to predict what is around every literary corner makes each chapter an enticing piece of candy. You can't eat just one, and you want still more when you get to the last tasty chapter. And, of course, the ending of Chaos makes us eager for candy man Patricia Cornwell to offer her next treat – same time next year.
I READS YOU RECOMMENDS:
Patricia Cornwell opened the forensic lab for C.S.I. and NCIS, so if you like such television series, give
Chaos
or other Kay Scarpetta novels a try.
A
www.patriciacornwell.com
Rating: A /10
Last Updated: January 24, 2022 - 11:00