Stepping to a New Day book review

By The Editor
November 20, 2016 - 21:02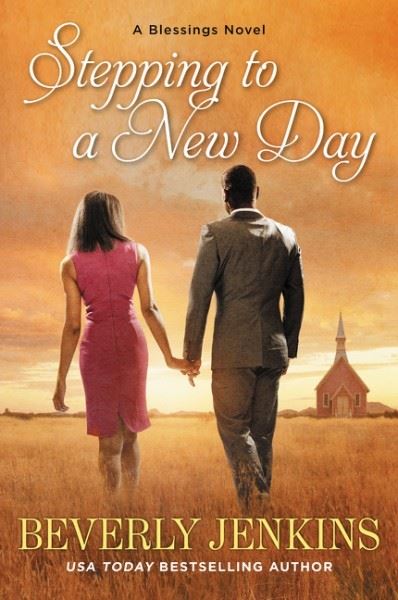 Stepping to a New Day cover image
Stepping to a New Day
is the most recent novel from bestselling author,
Beverly Jenkins
. A William Morrow paperback original, this is the seventh novel in Jenkins' "Blessings" series. Set in the fictional small town of Henry Adams, Stepping to a New Day welcomes a newcomer, finds a prodigal son creeping back into town, and witnesses a good-woman-done-wrong find a good man.
In
Henry Adams, Kansas
, you cannot start over without stirring things up, and that is what
Genevieve "Gen" Gibbs
has done. She is a new person with a new attitude, and that irritates her soon-to-be ex-beau,
Clay
, who prefers the doormat version of Ms. Gibbs. Gen would like to find someone who appreciates the "new" her; then,
Terrence "T.C." Barbour
appears in her life.
T.C. discovers that this tiny Kansas town is so vastly different from his native Oakland, California. However, helping his divorced nephew,
Gary Clark
, work through single fatherhood with his two teen daughters,
Leah
and
Tiffany
, is just the change T.C. needs. Driving a limo for the most powerful woman in Henry Adams,
Bernadine Brown
, brings T.C. into contact with Genevieve. When the two find themselves connecting, they become the talk of the town, but the return of Gen's ex-husband,
Riley Curry
, could ruin everything.
THE LOWDOWN:
I had heard of author Beverly Jenkins, although I had never read her work. When William Morrow offered a copy of Stepping to a New Day to reviewers, I picked it up because I love stories set in small towns that Norman Rockwell or Walt Disney could love.
Stepping to a New Day
could be one of those holiday movie on Lifetime or Hallmark, but with a dash of Tyler Perry. Why do mention Tyler Perry? Beverly Jenkins is African-American. Henry Adams is based upon the small townships founded in Kansas in the 1880s by freed slaves. The town has African-American, Latino, and White citizens, and some of this novel's subplots resemble melodrama one can find in a Tyler Perry movie. [See Reverend Paula's trip home.]
It's a wonderful life in Henry Adams, which is kind of like Mayberry with Black people. The characters in Stepping to a New Day are endearing and the storytelling goes down like comfort food. A kind of non-denominational Christian God is regularly called upon by many of the characters. Redemption and forgiveness are served in big bowls. No, this isn't William Faulkner small town, but prose fiction pot roast can be as enjoyable as great American novel filet mignon. I can't wait for the next Blessings novel, and I hope to share the good news with you.
I READS YOU RECOMMENDS:
Fans of Beverly Jenkins and also of heartwarming small town melodrama will want
Stepping to a New Day
.
Rating: 8 /10
Last Updated: January 24, 2022 - 11:00